Regular price
$309.00 USD
Regular price
$398.00 USD
Sale price
$309.00 USD
Unit price
per
Sale
Sold out
Why do you need a motorcycle nozzle detection cleaner?

FXTUL UNT60 ultrasonic fuel injector diagnostic and cleaning equipment is a mechatronics product that combines ultrasonic cleaning technology and microcomputer oil pressure closed-loop control cleaning and detection technology. It works by using ultrasonic technology to generate high-frequency sound waves that agitate and remove any accumulated dirt, rust, or debris from the fuel injector nozzles.
The ultrasonic cleaning tank is made of high-quality stainless steel, providing a durable and long-lasting solution. The machine is designed to minimize vibration and noise during operation, making it safe and easy to use. It also features a compact design that is easy to store and transport, making it ideal for use in a garage or workshop setting.
This machine features a user-friendly interface and easy-to-operate controls, making it suitable for use by both professional mechanics and any motorcycle owner. It also has a built-in ultrasonic cleaner tank that holds the cleaning solution, and a control panel that allows you to set the cleaning time and frequency.
The machine is equipped with a fuel injector tester that accurately detects clogged injectors and measures the flow rate of each nozzle. It boasts a conversion rate of up to 98%, ensuring that the cleaning process is thorough and effective in removing even the most stubborn blockages. Overall, the motorcycle ultrasonic nozzle detection and cleaning machine is an essential tool for maintaining the optimal performance of a motorcycle engine.
Main functions
(1) Ultrasonic cleaning: Ultrasonic cleaning can be performed on single or
multiple injectors at the same time, which can remove the attachments and
internal blockages on the injectors.
(2) Uniformity detection: to detect the uniformity of the injection volume of
each injector.
(3) Atomization observation: Using the background light, you can observe
the spray atomization situation of the nozzle in a comprehensive and careful
manner.
(4) Tightness test: It can detect the tightness and drip of the fuel
injector under high pressure.
(5) Fuel injection volume detection: It can detect the fuel injection volume
of the fuel injection nozzle under specific working conditions (such as the
same time and the same number of times).
Main features
(1) Using ultrasonic powerful cleaning technology, strong cleaning ability.
(2) Using electronic pressure regulating control technology, stable oil
pressure and wide adjustable range.
(3) Use high-quality oil pump to ensure long-term stable use.
(4) The use of high-definition digital tube display makes the operation
clear and easy to learn.
(5) The oil tank liquid level is displayed visually, and the testing agent can
be recycled.
(6) Bright background light, you can clearly see the various situations of the
fuel injector when it is working.
(7) It has replaceable composite joints suitable for a variety of vehicle
types.
(8) Within the allowable adjustment range, the test time, working frequen
cy, fuel injection times, shortest switching period, etc. of the fuel injector can
be adjusted arbitrarily.
Working environment
Power supply: AC220V±10%
Frequency: 50HZ±0.5
Relative humidity: <85%
Environment temperature: 0℃ ~ +40℃
External magnetic field strength: <400A/m
No open flames are allowed around
For more details, please refer to the FXTUL UNT60 Nozzle Detector and Cleaner Manual.
Why choose FXTUL?
1. Leading brand of motorcycle tools
2. FXTUL official store direct sales, 100% original products
3. Technical team and factory with ten years of experience in motorcycle maintenance
4. All products support a 3-year warranty
5. Support OEM, wholesale and direct sales
Share
View full details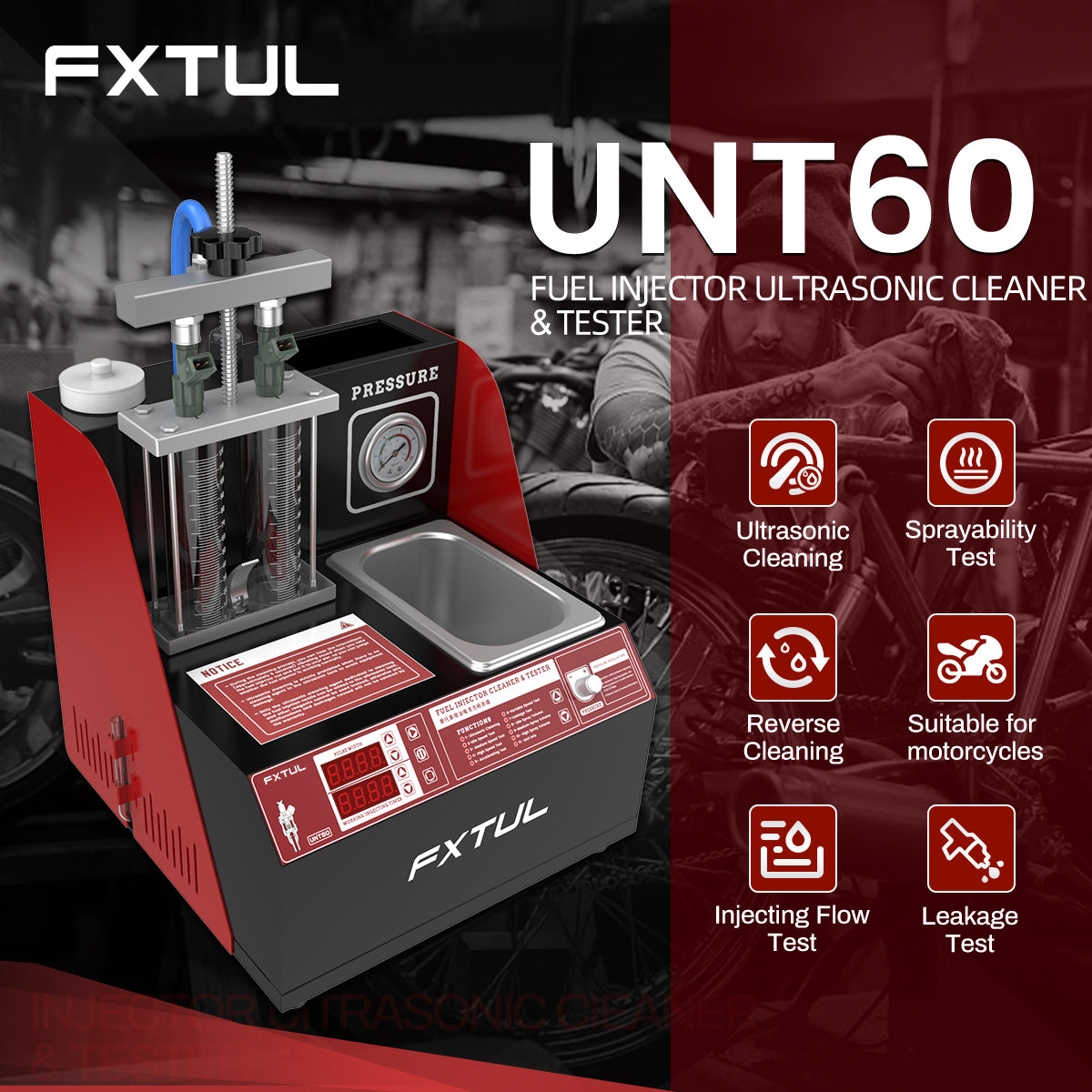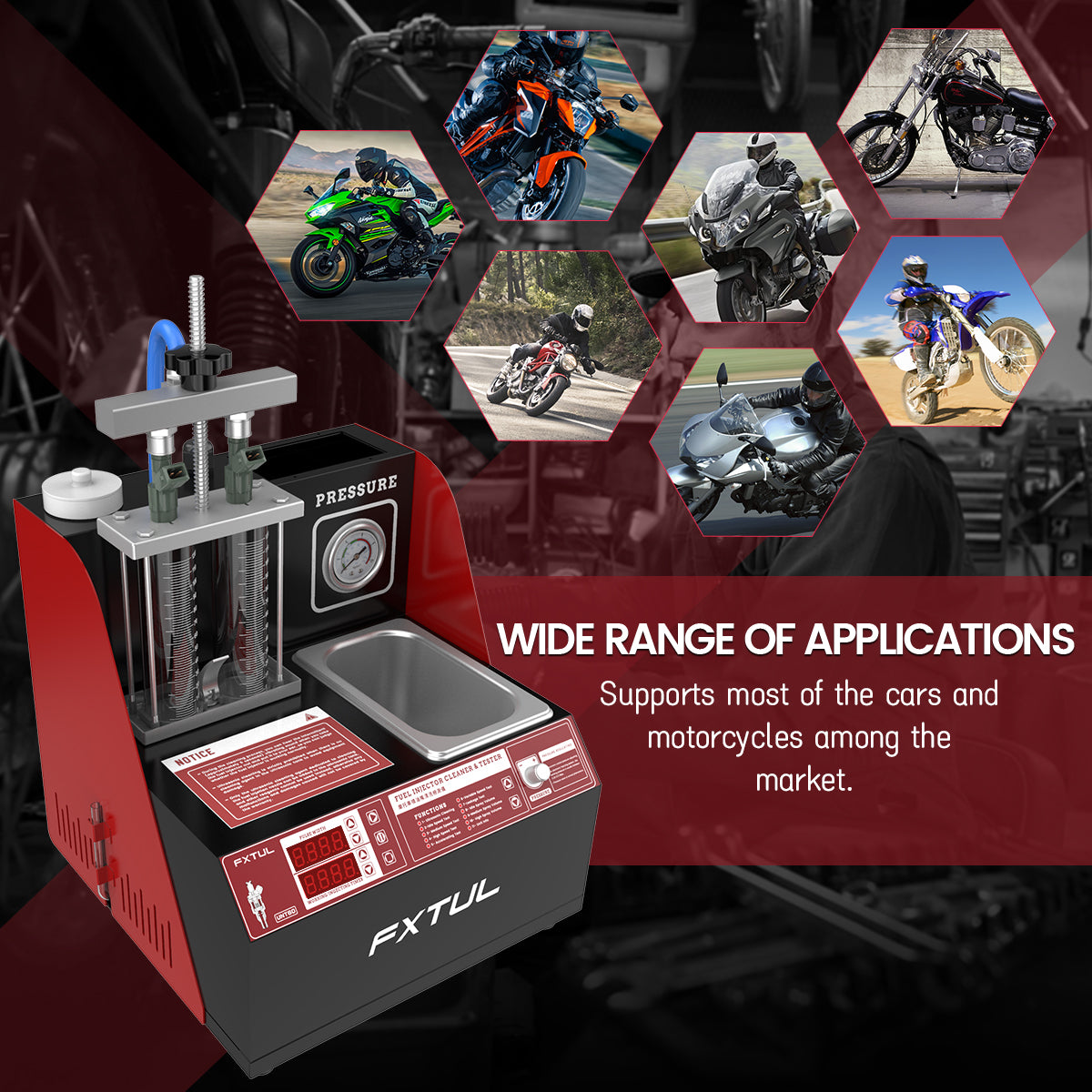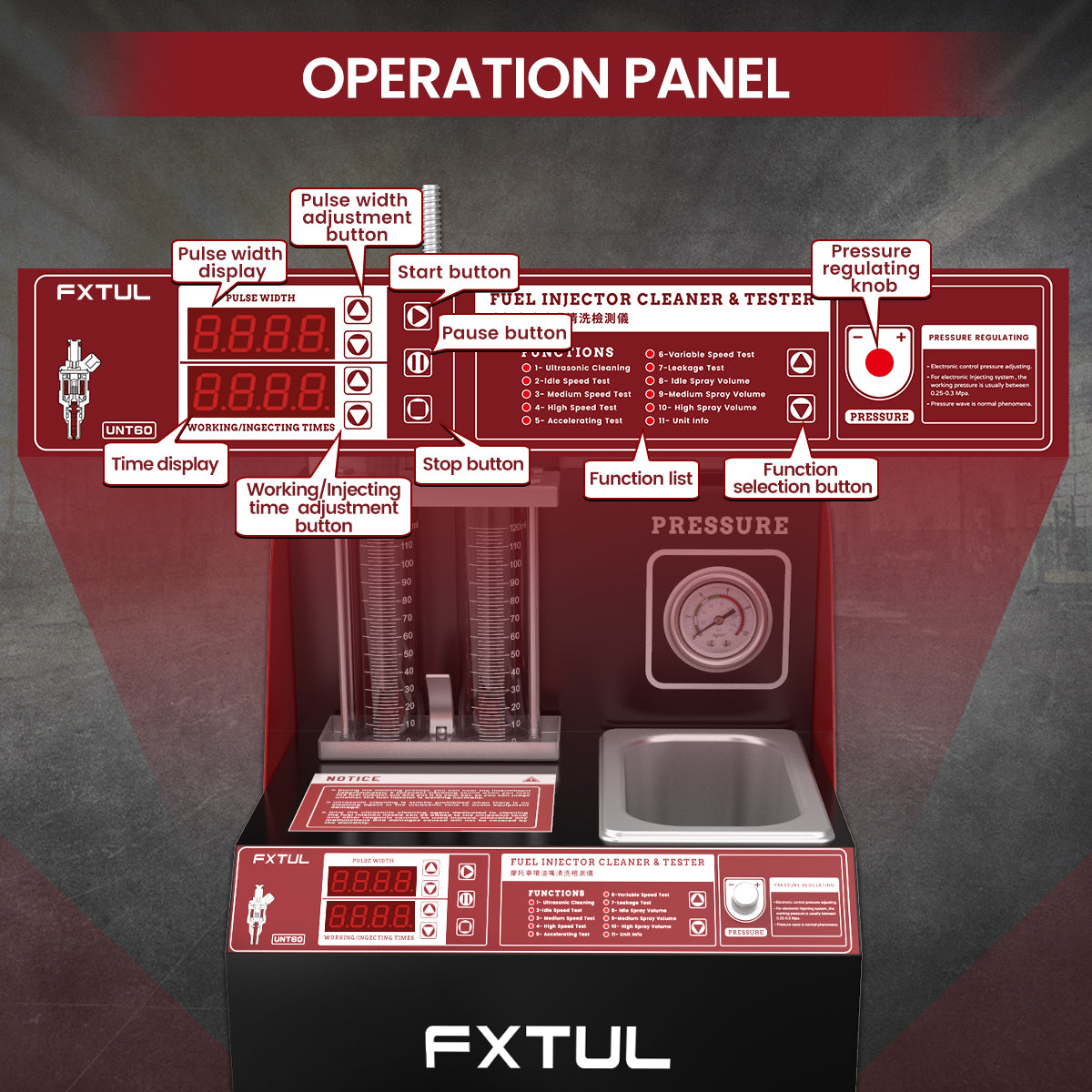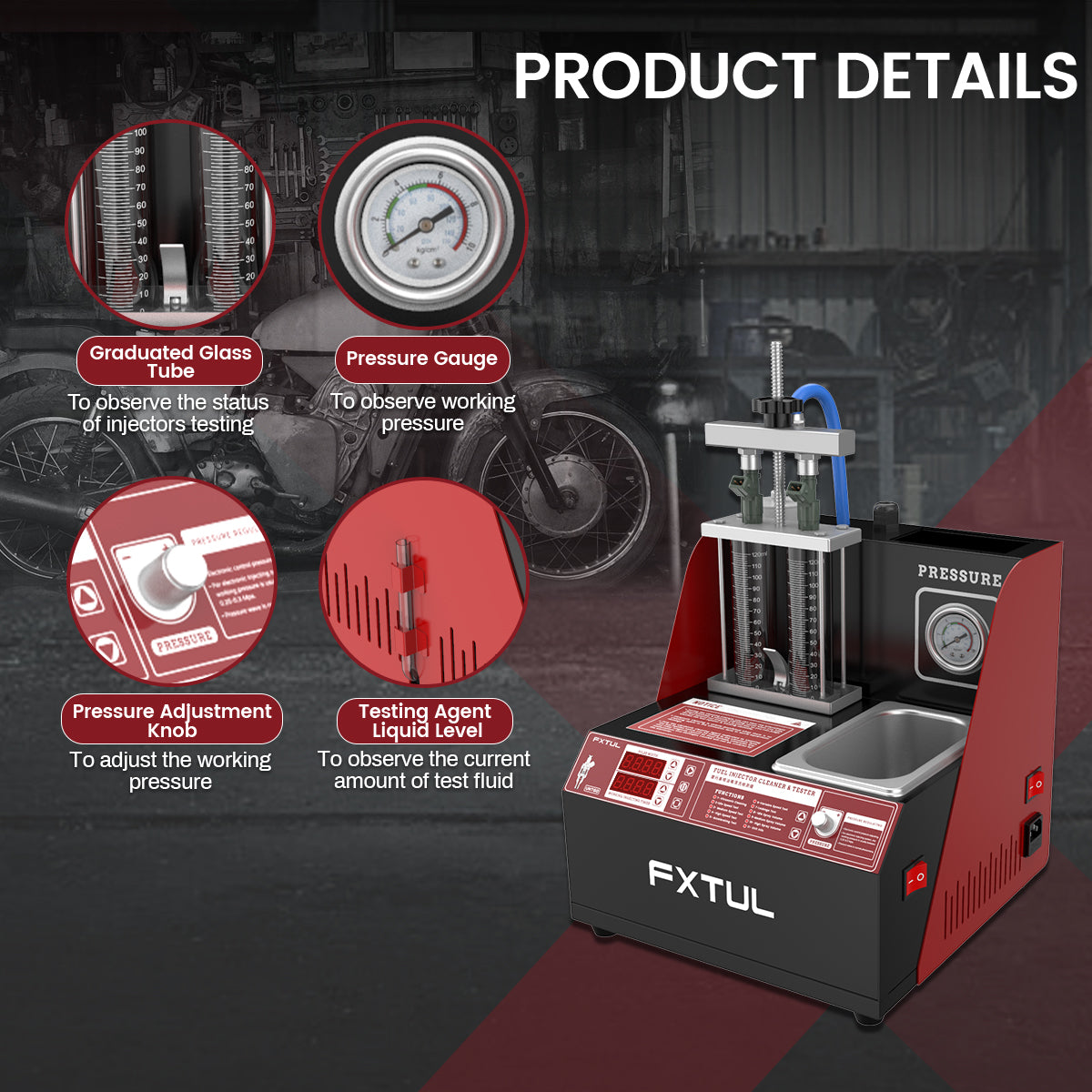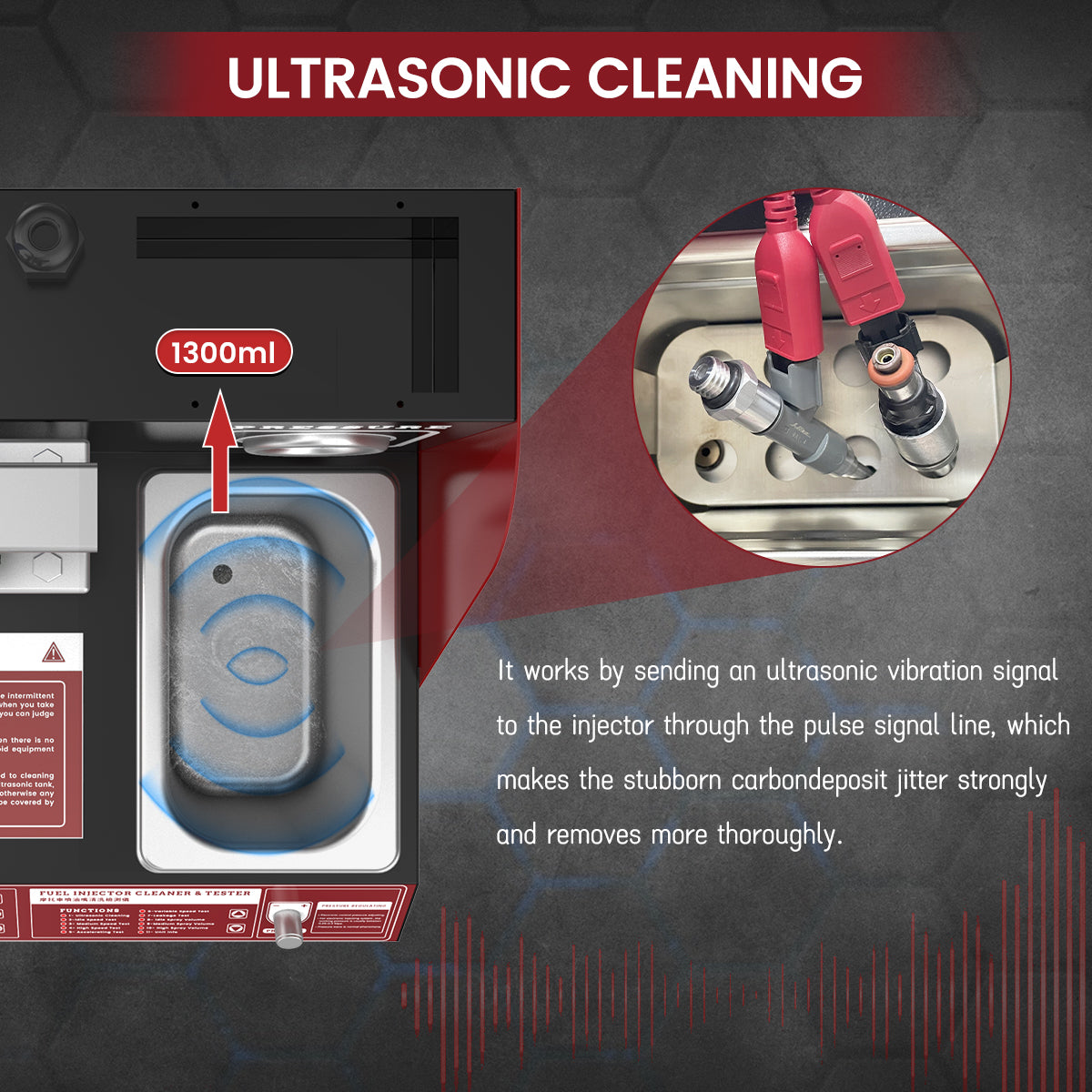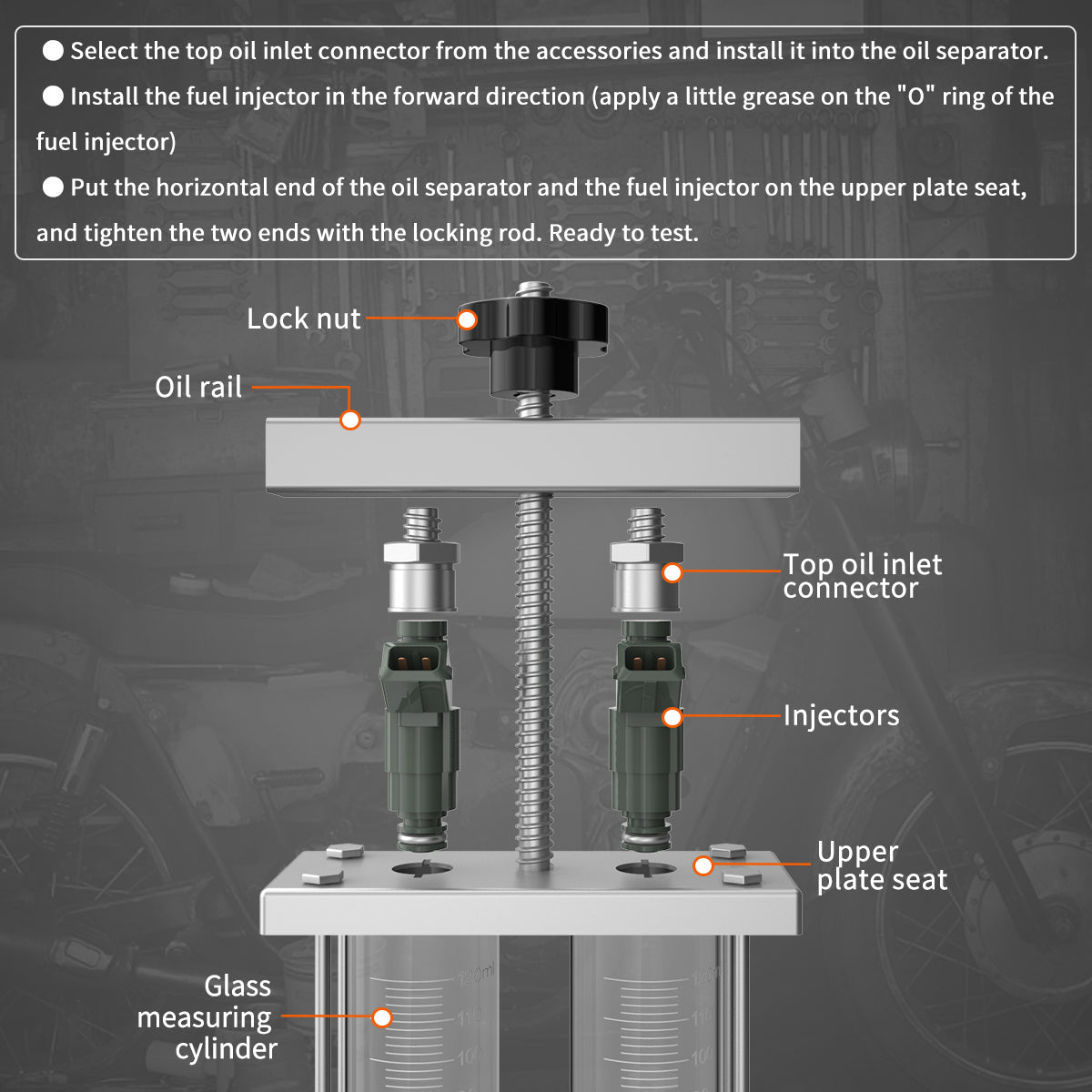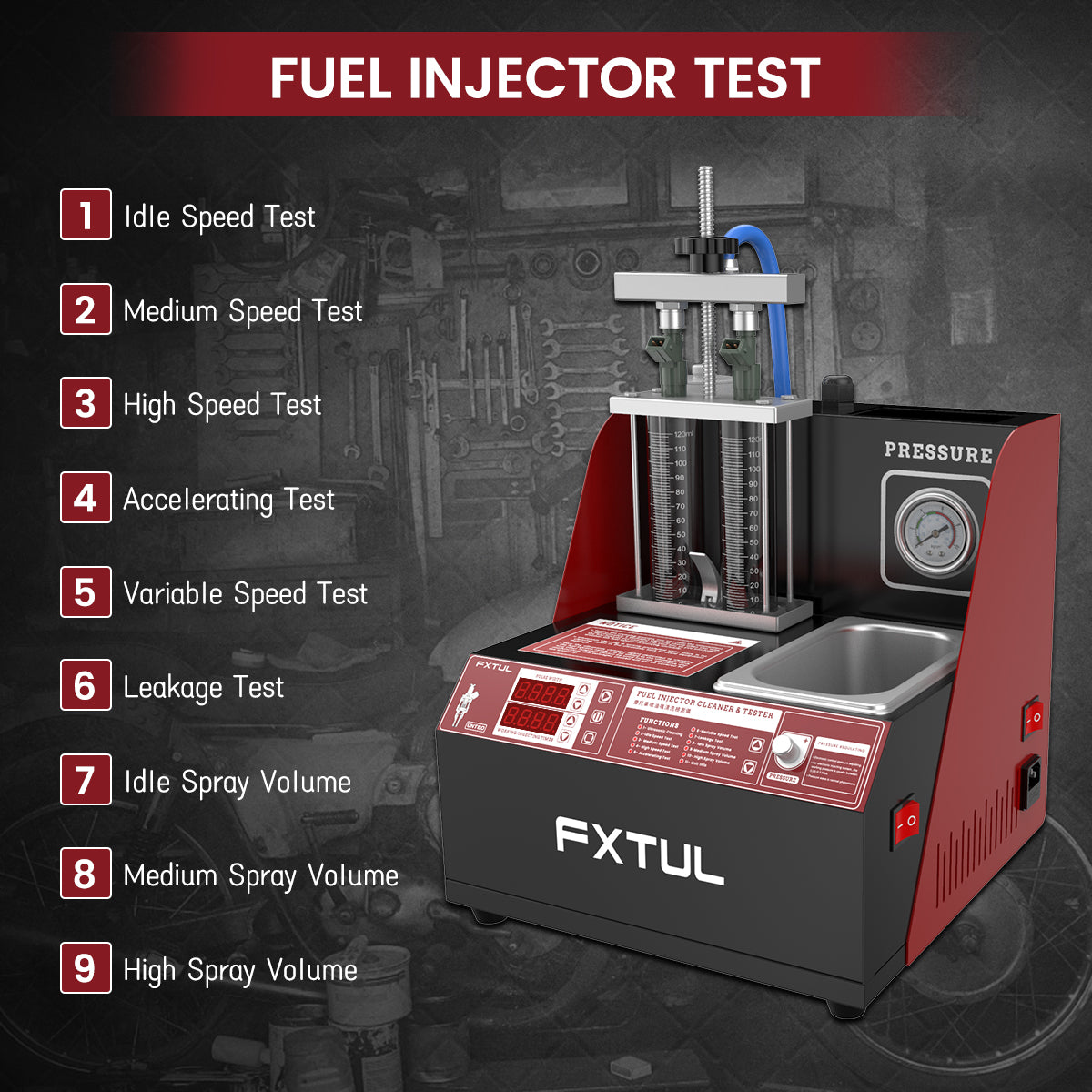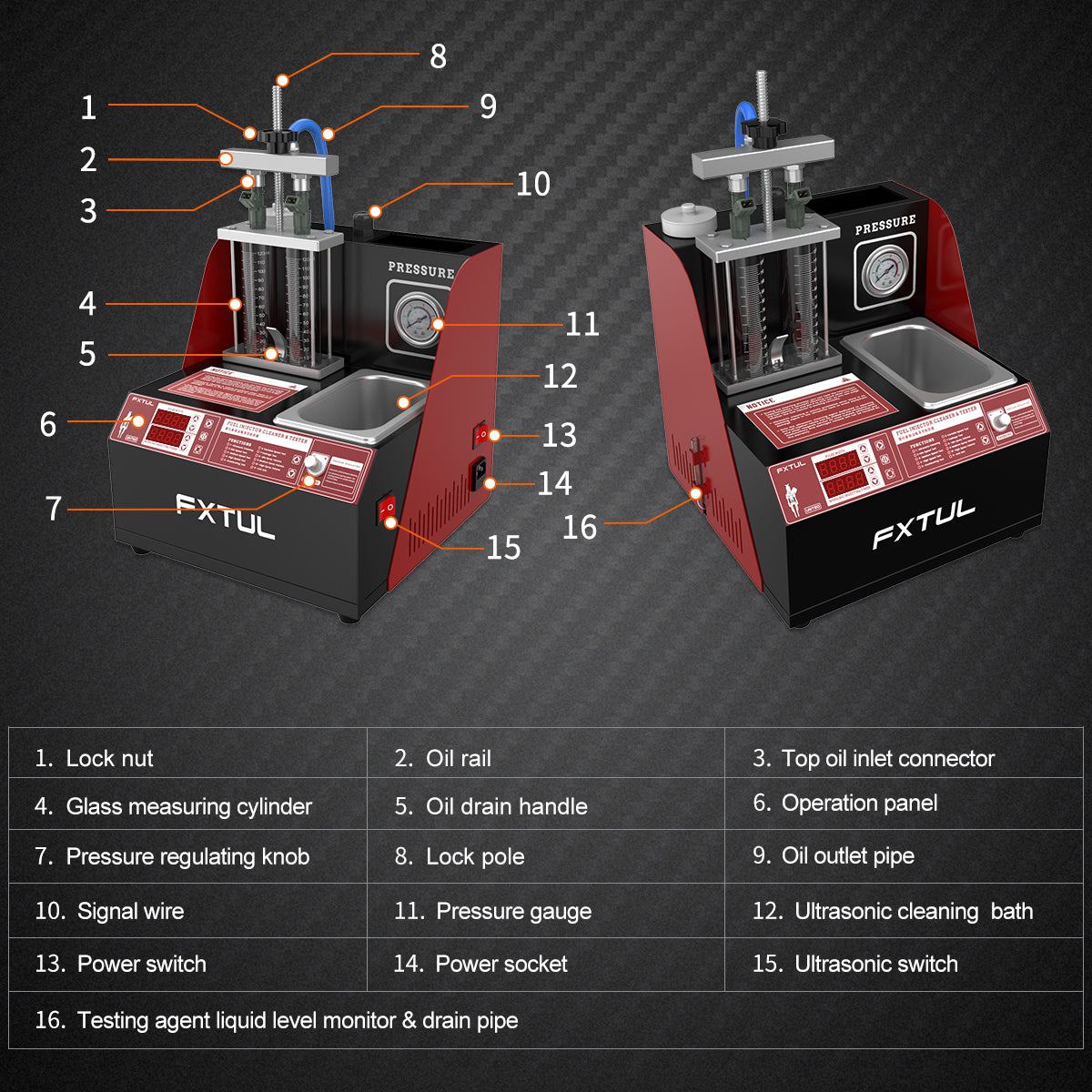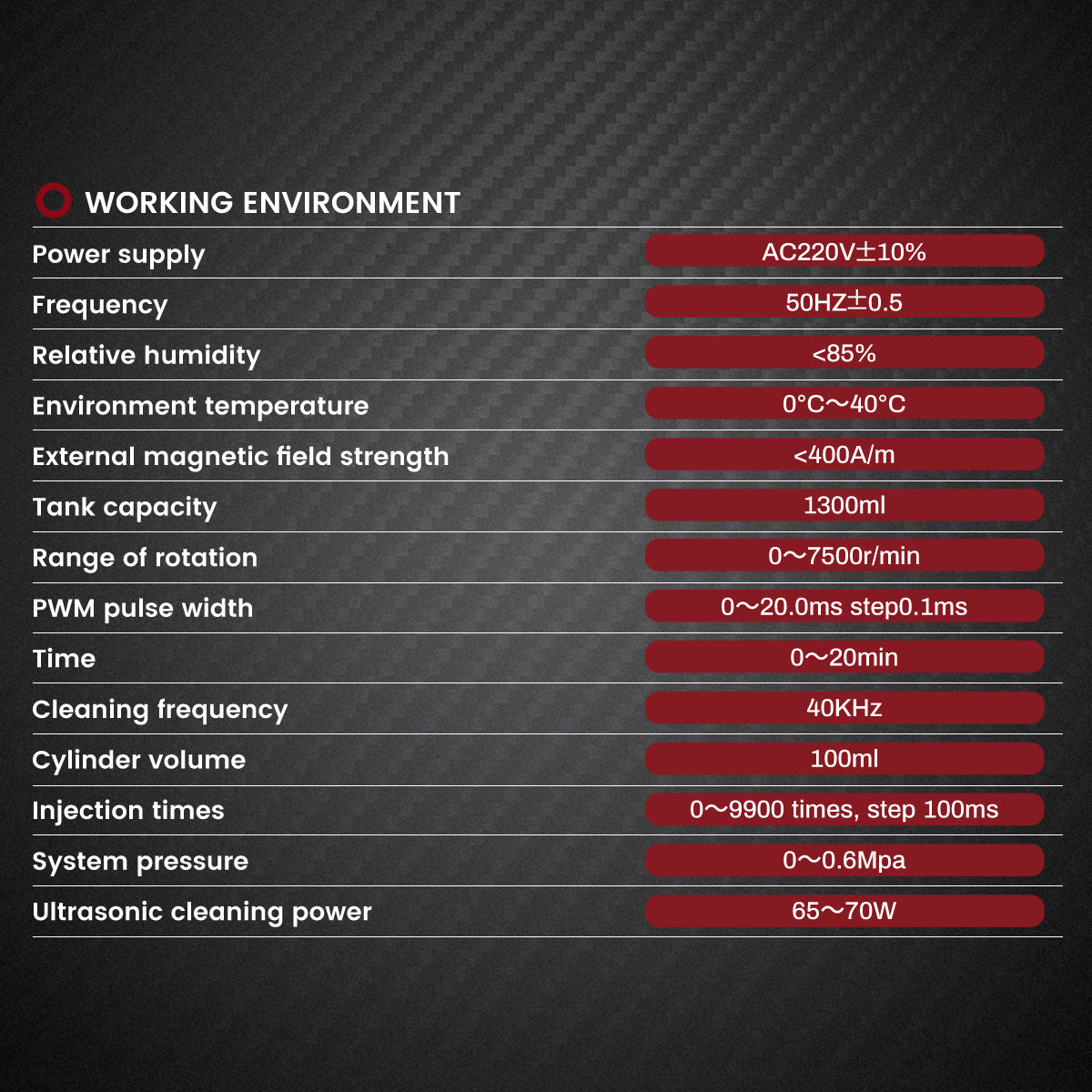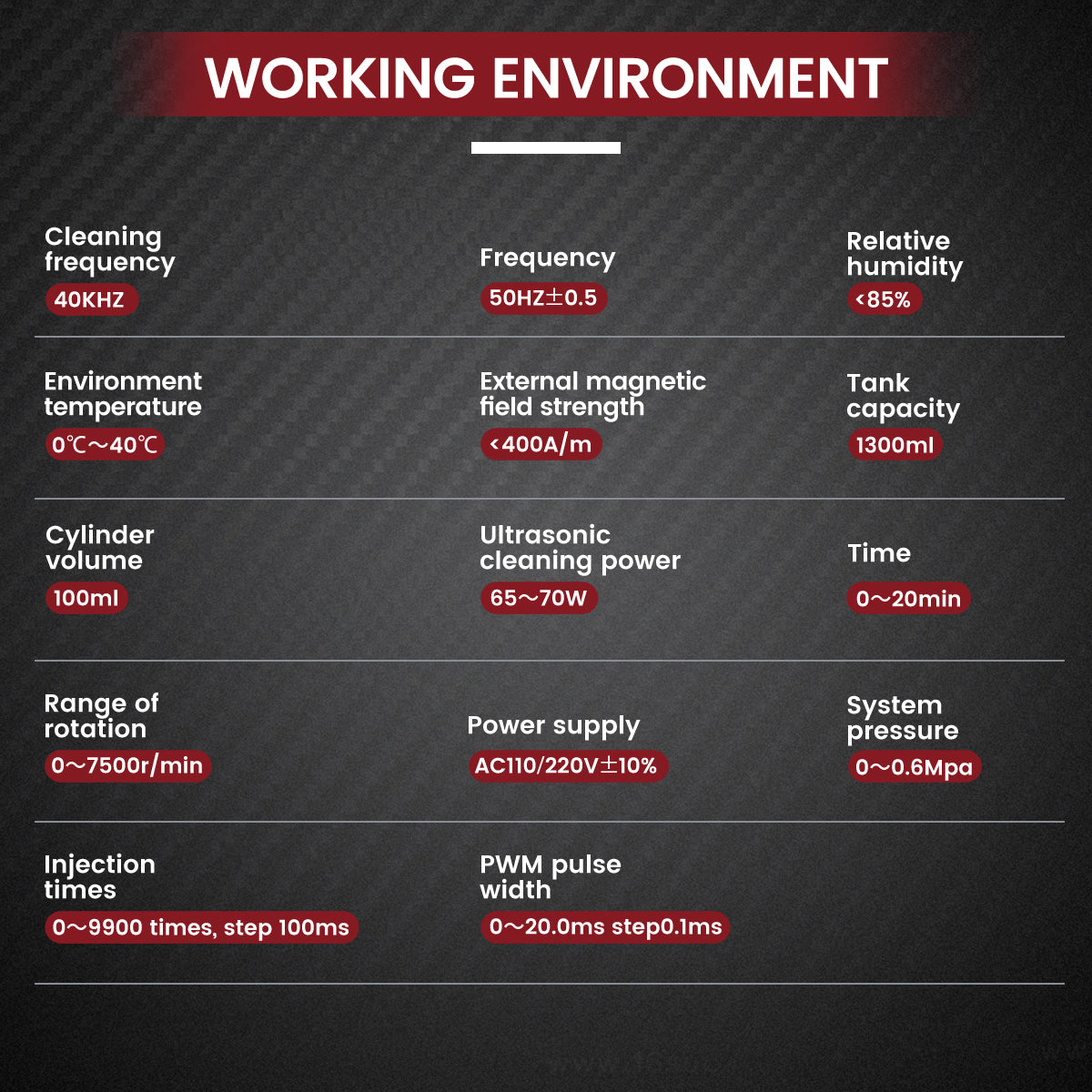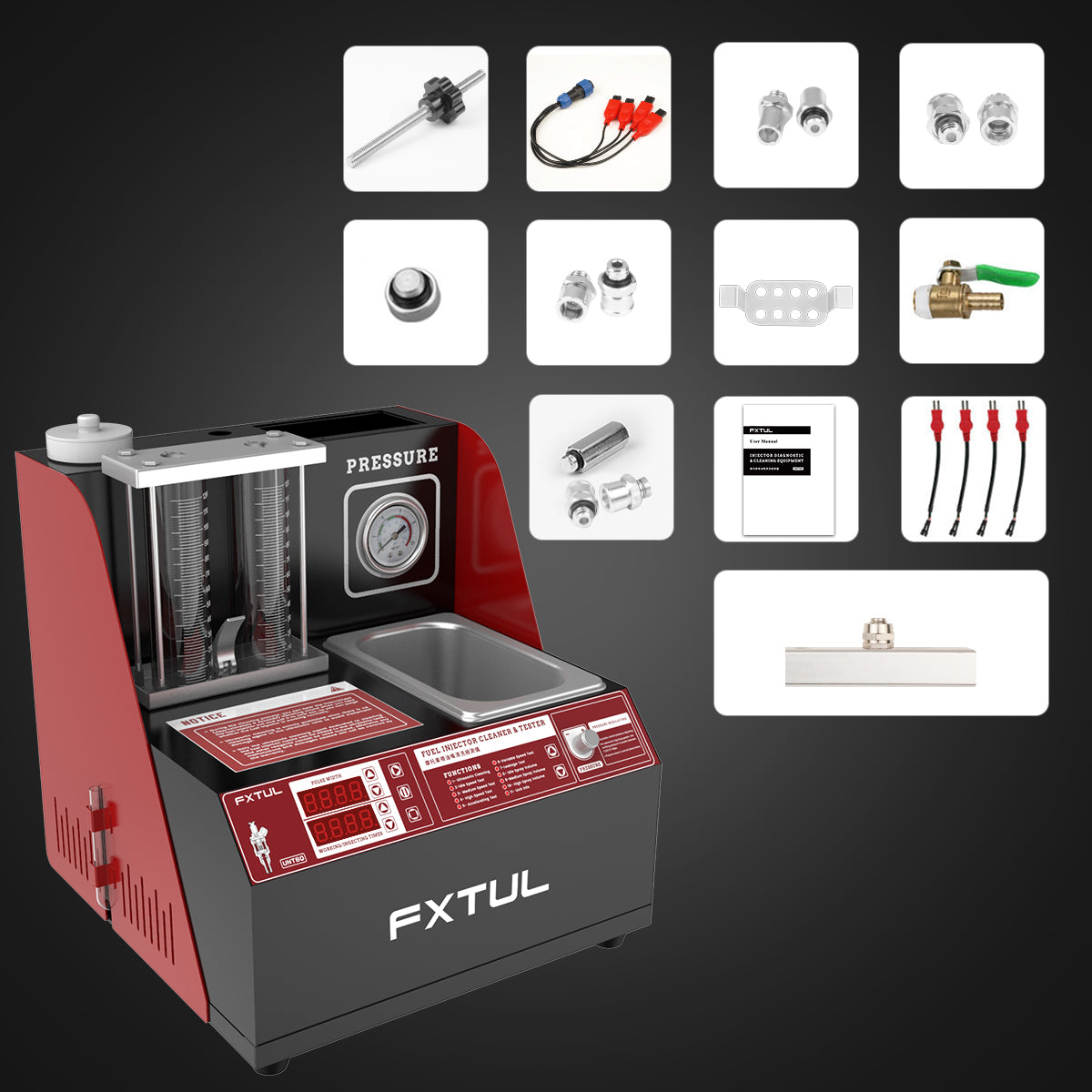 Collapsible content
Shipping

Please refer to the SHIPPING POLICY for details. The products are free shipping. If the shipping location you choose is in your country, no tariff is required. Otherwise, you will need to pay customs duties upon receipt of the goods. The specific rate is based on the tariff policy of each receiving country.
Note: Packages sent from Germany to the rest of the EU are not subject to tariffs.
Service Guarantee

All FXTUL products are backed by a three-year warranty. And we provide 7-day, 24-hour customer support.
What cleaning liquid can I use?

For cleaning fluids, you can use car-based carbon cleaners, which are readily available in offline supermarkets. And for the test liquid, you can use alcohol.

Does the package contain test liquid?

Due to customs requirements, we cannot ship the test liquid.

Can multiple nozzles be tested simultaneously?

Yes. You can test two nozzles simultaneously. It can also be cleaned at the same time for 8 fuel injectors.