Regular price
$279.00 USD
Regular price
$338.00 USD
Sale price
$279.00 USD
Unit price
per
Sale
Sold out
People always spend hundreds or even thousands of dollars on their motorcycles just because the engine light is on. In fact, this M6 code scanner could help you to determine the cause of the engine light, tell you what's wrong with your motorcycle engine, and if it is necessary to be sent to the workshop. It supports diagnostic testing for 70 major motorcycle brands such as BMW, Harley, Ducati, Yamaha, Suzuki, Honda, Kawasaki, Aprilia, and so on.
The scanner diagnostic tool is designed for home mechanics and workshops and garages. Supports almost all the most popular motorcycle functions, including ECU reset, engine data, CO idle speed adjustment, battery test, and more, helping you to easily deal with all kinds of complex maintenance problems.
Full System Diagnosis
This motorcycle scanner diagnostic tool not only checks basic systems such as ABS/engine/transmission but also performs a thorough diagnostic of all available systems to read/clear codes and turn off flashing warning lights on the dashboard.
It supports 104 service functions that allow technicians to perform factory service procedures such as Oil maintenance lamp reset, ECU reset, making injection adjustments (CO Trimmer), adjusting the throttle valve position sensor (TPS), re-setting auto adaptive parameters, and re-setting the service light, and making idling adjustments.
Features
Supports full system scanning and identification of current vehicle model, and reports on the assembly status of each system and whether any fault codes are present.

Allows browsing of the assembly status and fault code descriptions for the entire vehicle system, and generates paper reports for printing.

Supports one-click clearing of all fault codes in the entire system.

The data stream waveform graph automatically adapts to the data without the need for manual adjustment of amplitude and allows for viewing of specific data streams rather than displaying all data streams at once.

It comes equipped with features such as a printer, image viewer, data logging and playback, battery testing, c

harge detection, 

error reporting and feedback, and more. Diagnostic Functionality.

Wide compatibility: It supports 70 motorcycle brands worldwide. Most of the motorcycle scan tools on the market are based on BMW diagnosis, for the convenience of owners with different motorcycles, we have added DUCATI, KTM, TRIUMPH, YAMAHA, and HONDA Diag.

Connect directly to the motorcycle to use. What's more, considering the individual different interfaces, it is specially equipped with 14 adapter cables (worth more than $150), no need to spend extra money to buy.
Technical Parameters
Voltage: DC 12V
Current: ≤60mA
Resolution: 800*480
Display: 5 "color screen
Machine size: 25*4.6*10.4 CM
ABOUT SOFTWARE UPGRADES
Connect the device to the computer and wait for the device to be recognized by the computer. After the recognition is successful, a new drive symbol will appear on the computer. Open this and replace the "DIAGNOSE" folder in the drive with the downloaded "DIAGNOSE" upgrade folder, and then power on again. The updated files can be obtained by contacting customer service or the official website.
For more product information, please refer to the FXTUL M6 Motorcycle Diagnostic Tool product manual.
Support services we provide
Free software upgrade
3 years warranty
24-hour customer service
Support custom motorcycle models and OEM: If you have a large demand, you can tell us the motorcycle models you need to add, and we will customize the diagnostic instrument for you. At the same time, we also support OEM service, please contact customer service for details or contact us by email: sales@fxtul.com
Why choose FXTUL?
1. Leading brand of motorcycle tools
2. FXTUL official store direct sales, 100% original products
3. Technical team and factory with ten years of experience in motorcycle maintenance
4. All products support a 3-year warranty
5. Support OEM, wholesale and direct sales
Note:
1. Please follow the instructions after M6 connects the motorcycle.
2. This USB cable is powered by 5V. It is only used when the PC is connected to the product for upgrading. It cannot be connected to a quick charger higher than 5V.
Share
View full details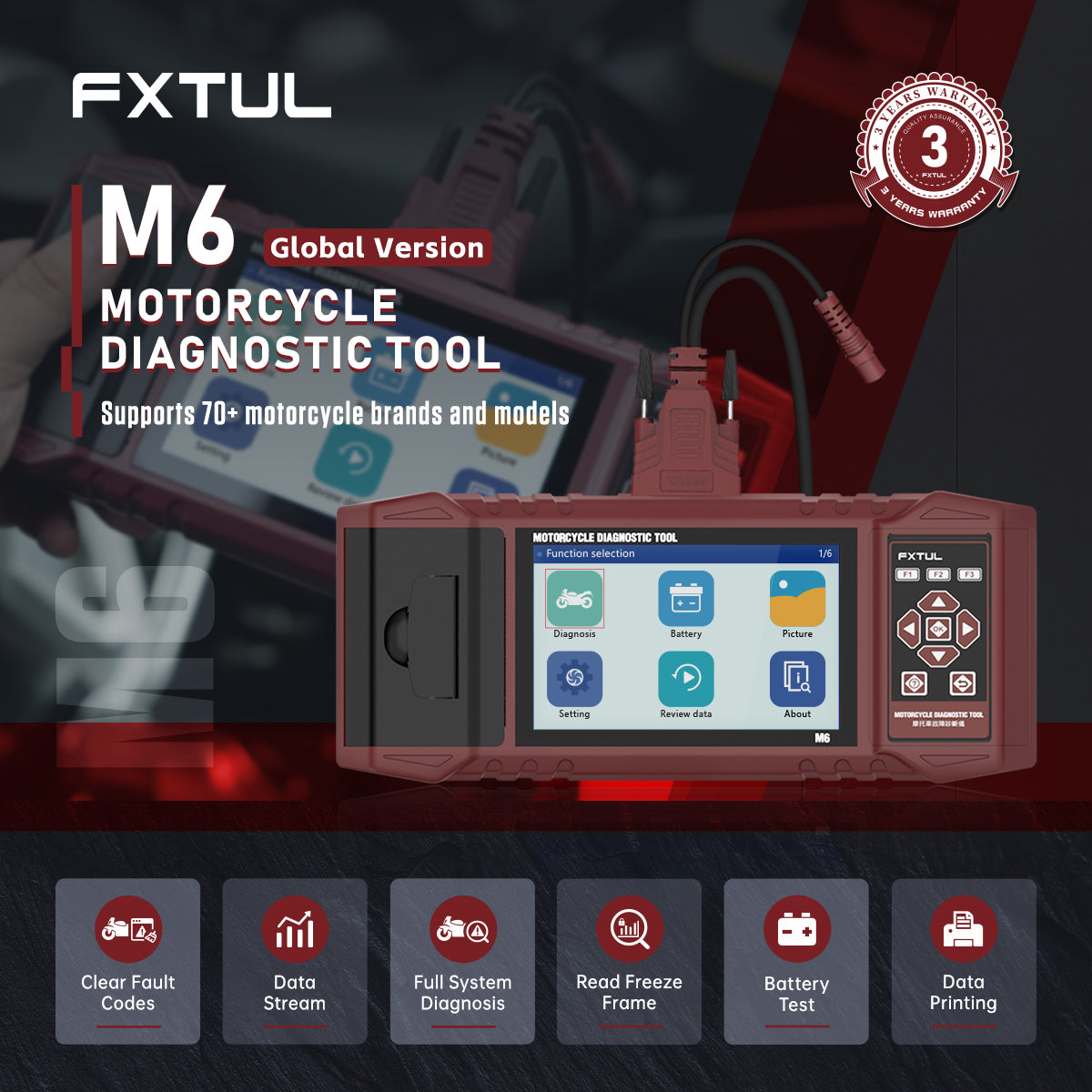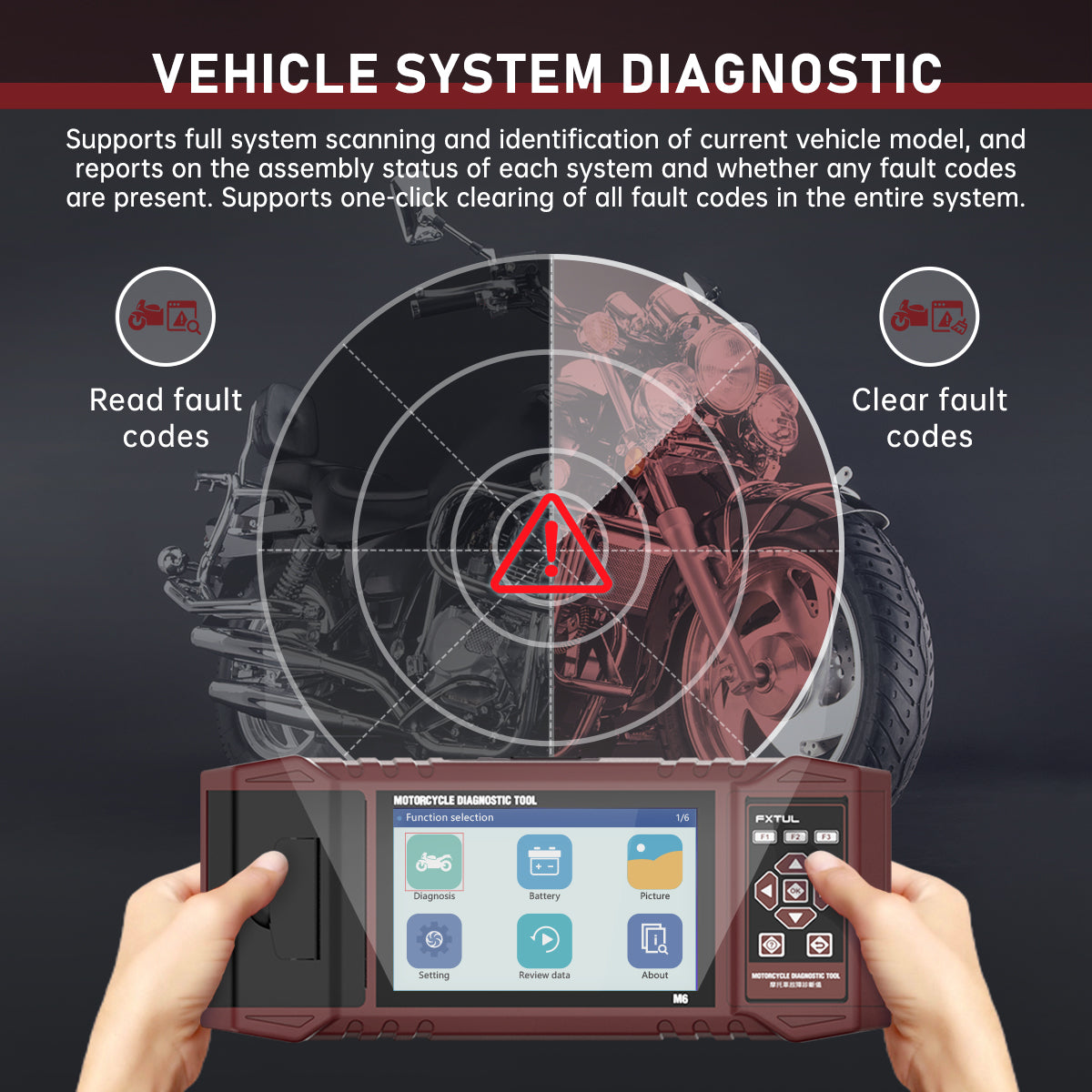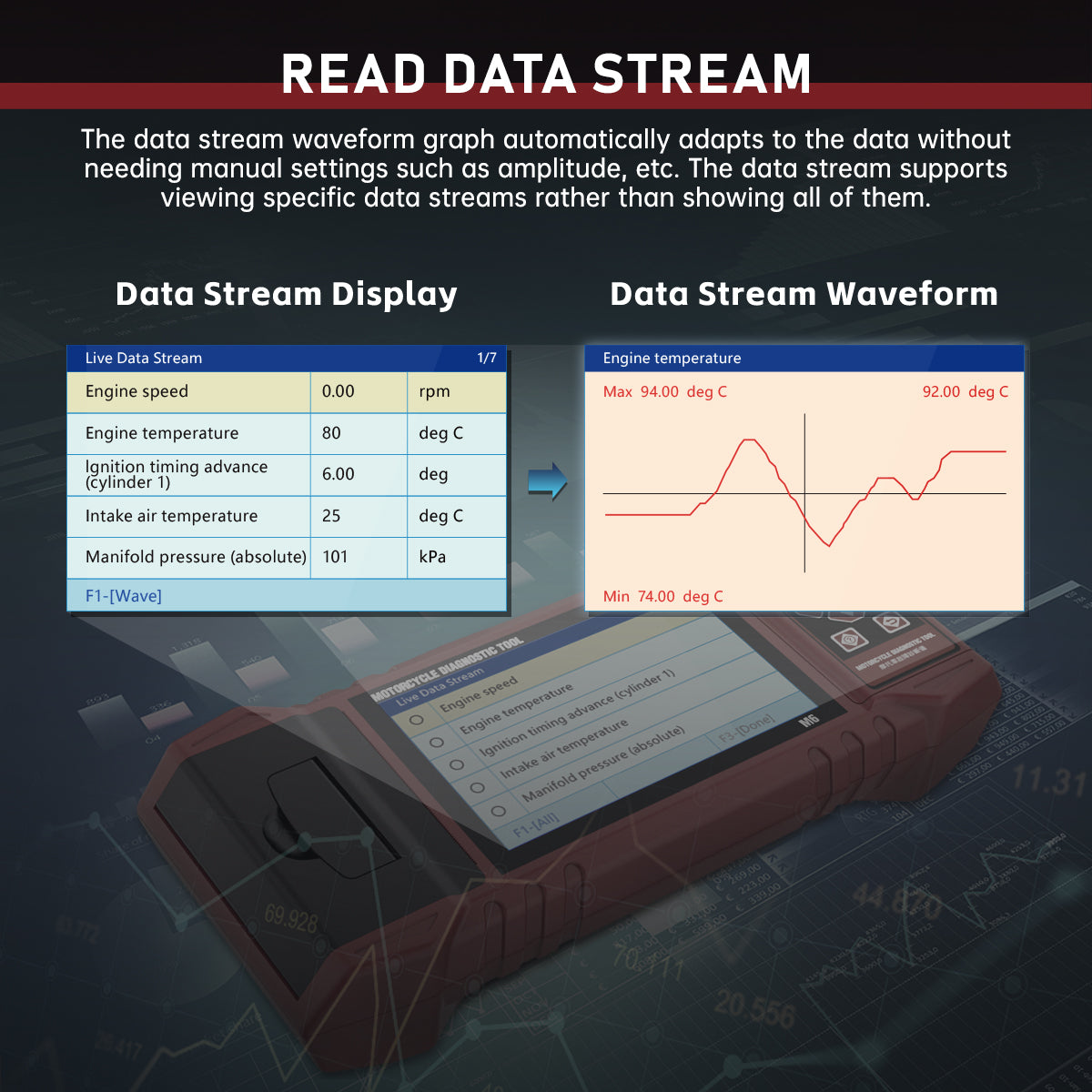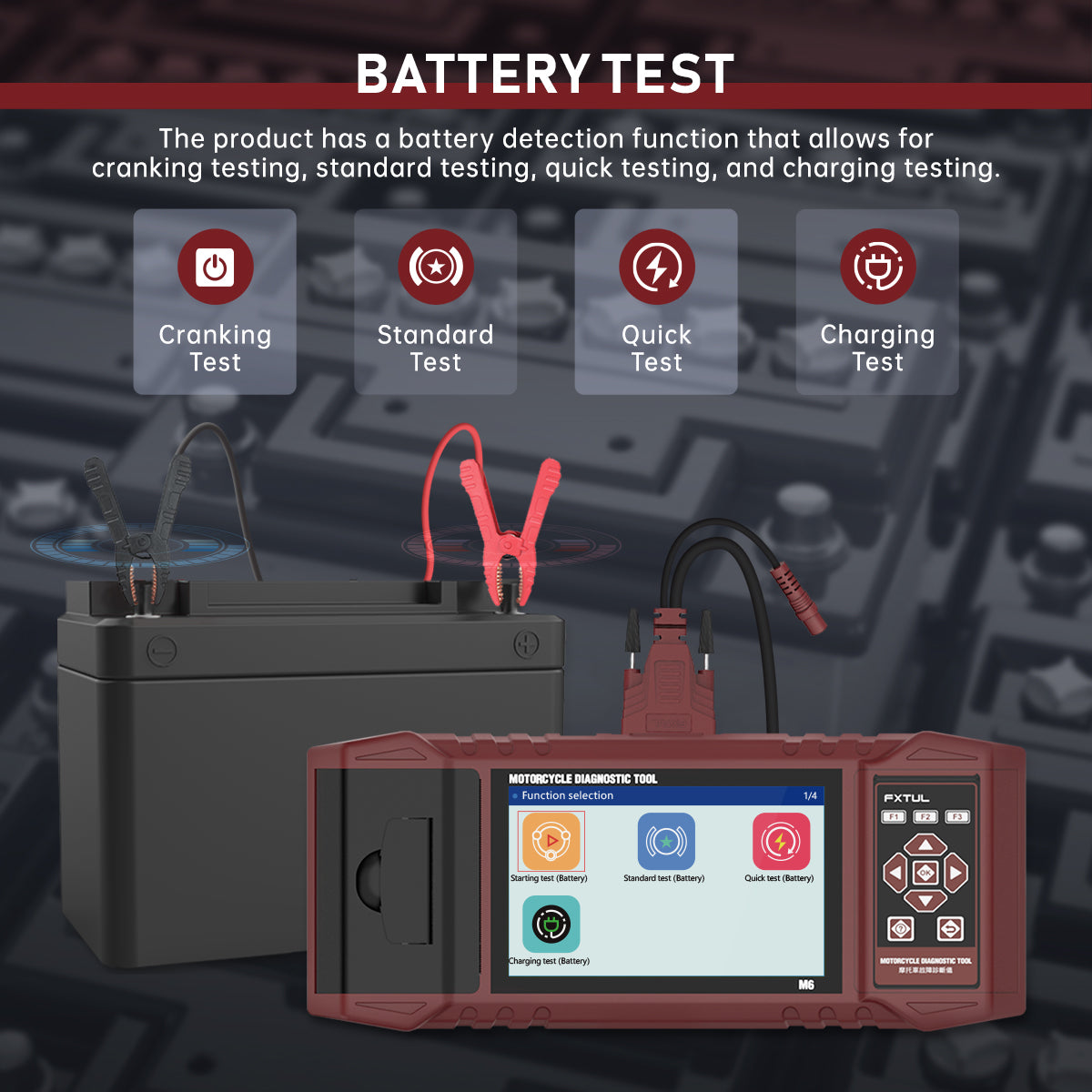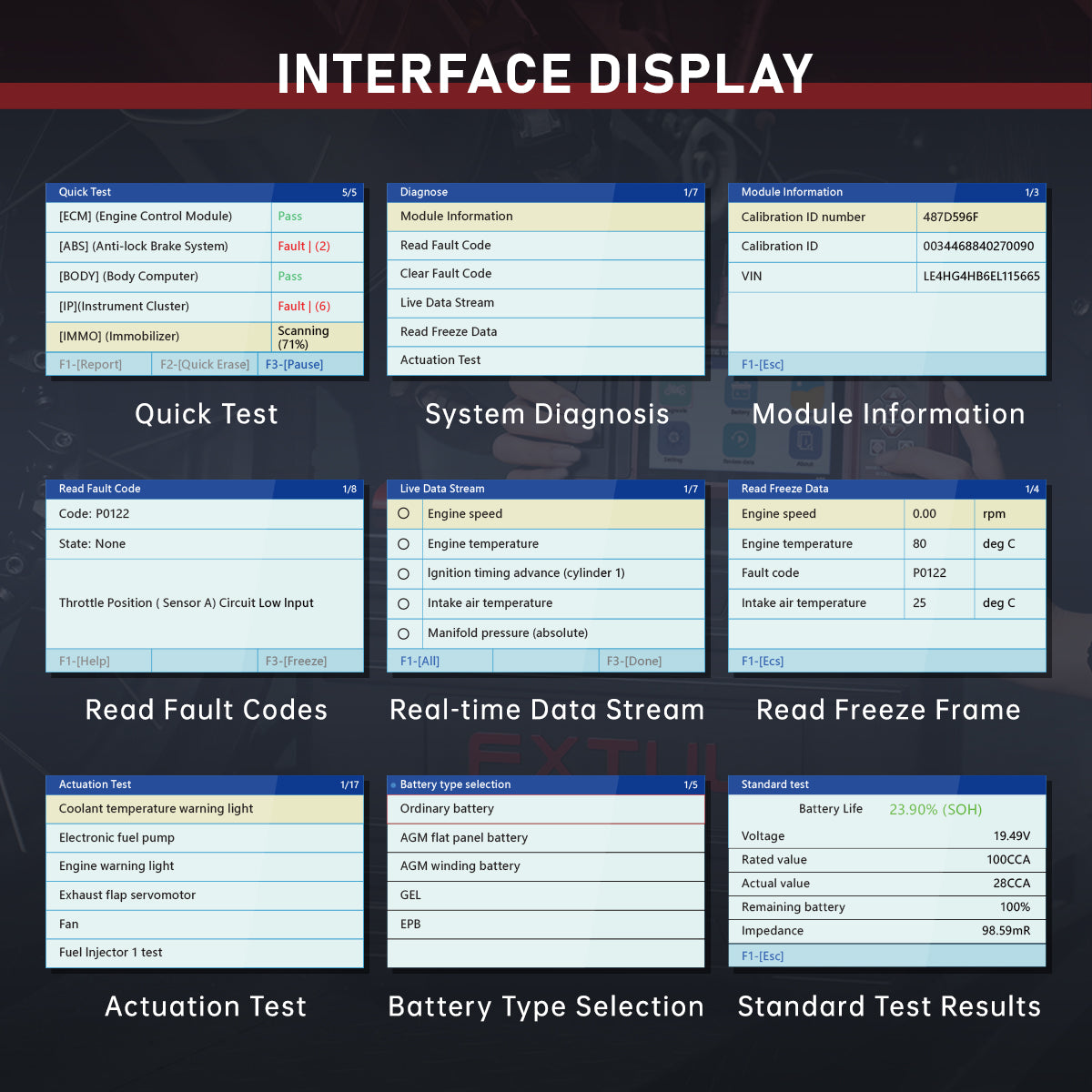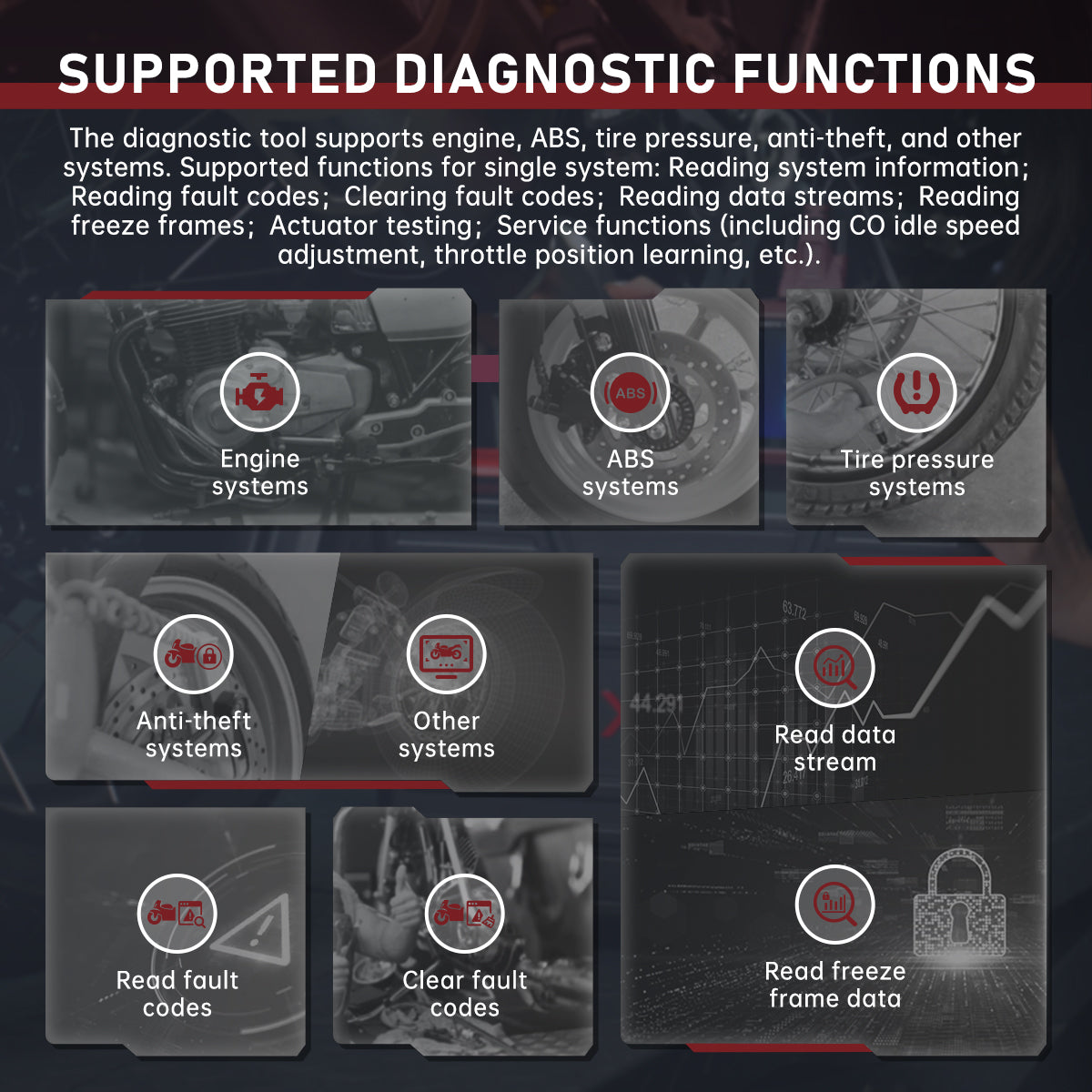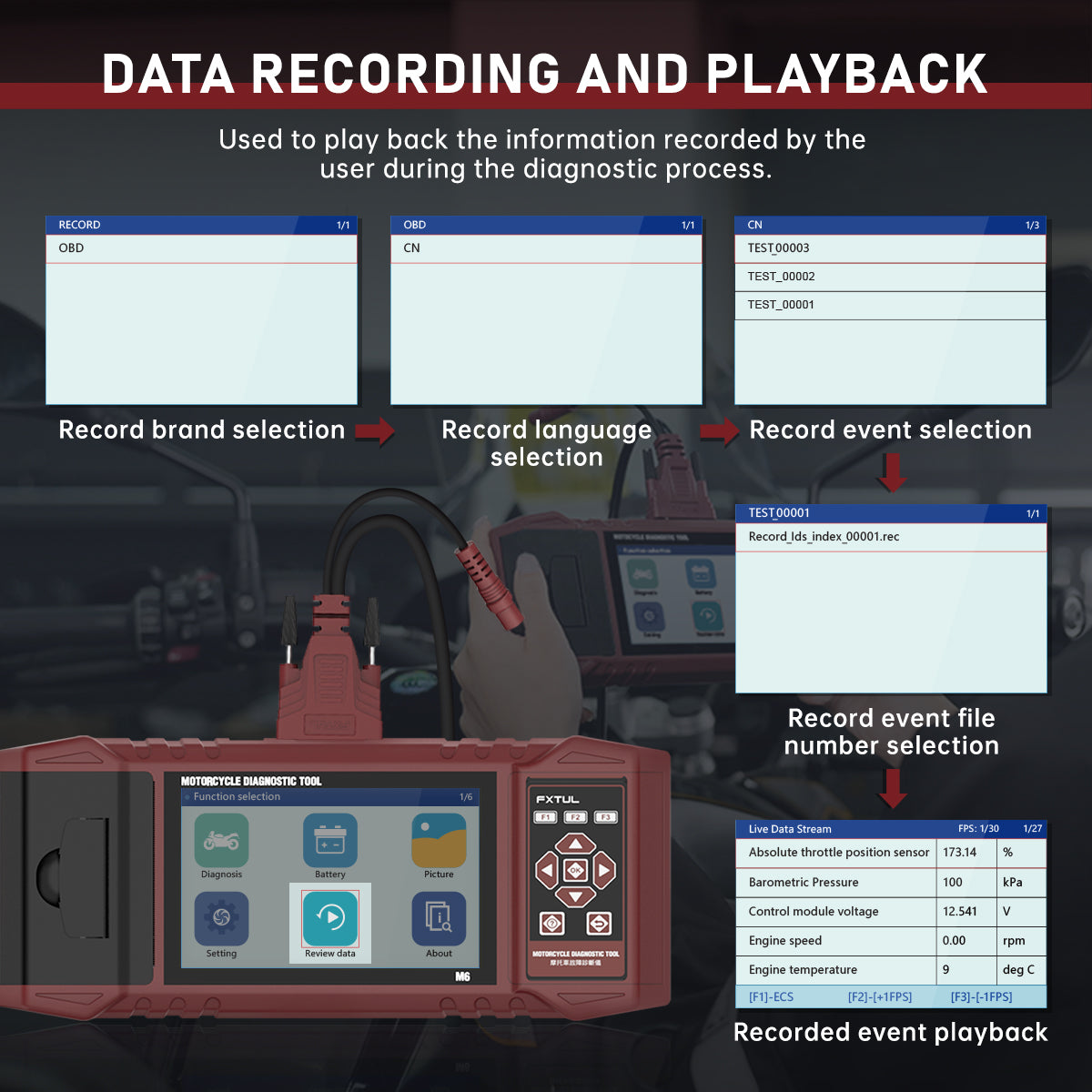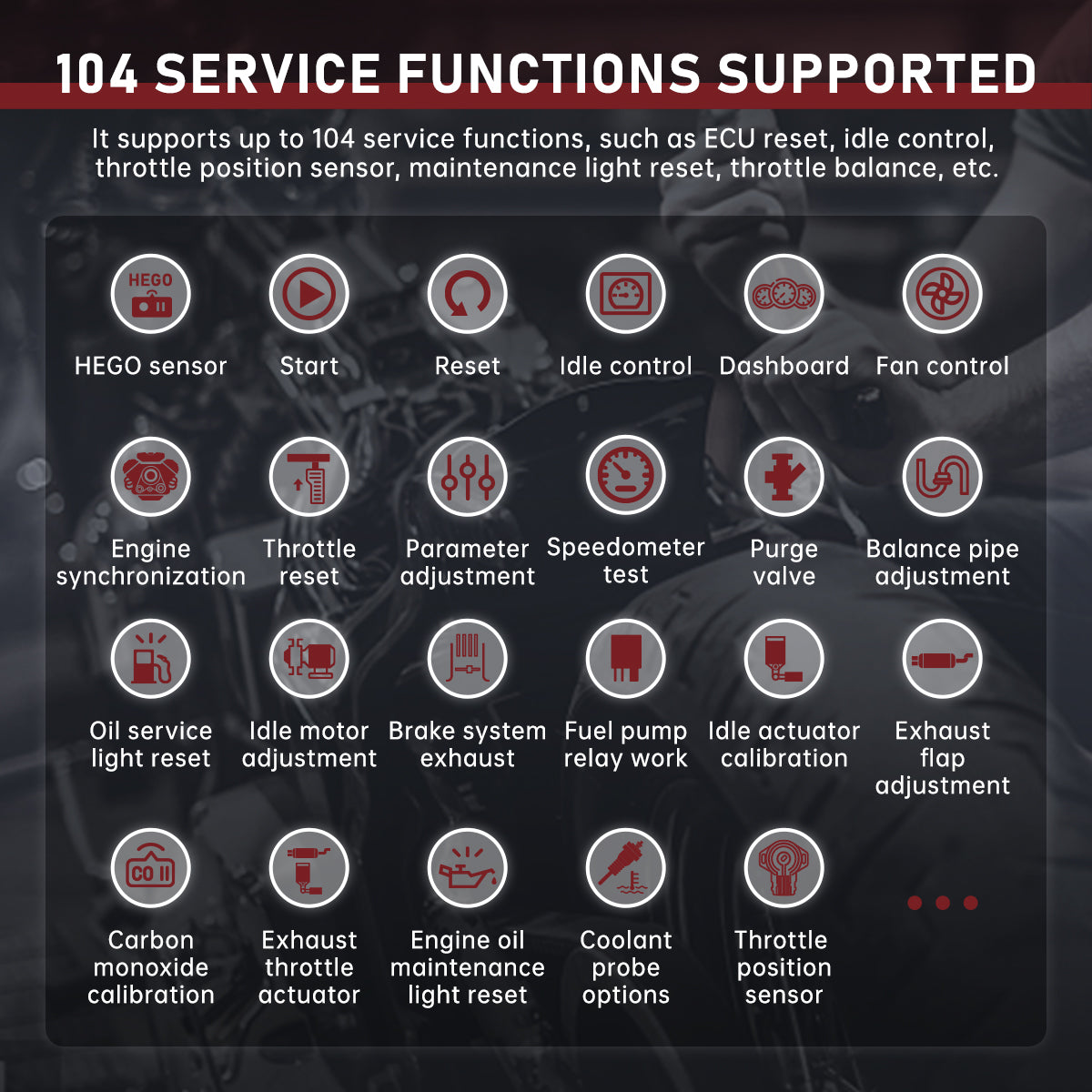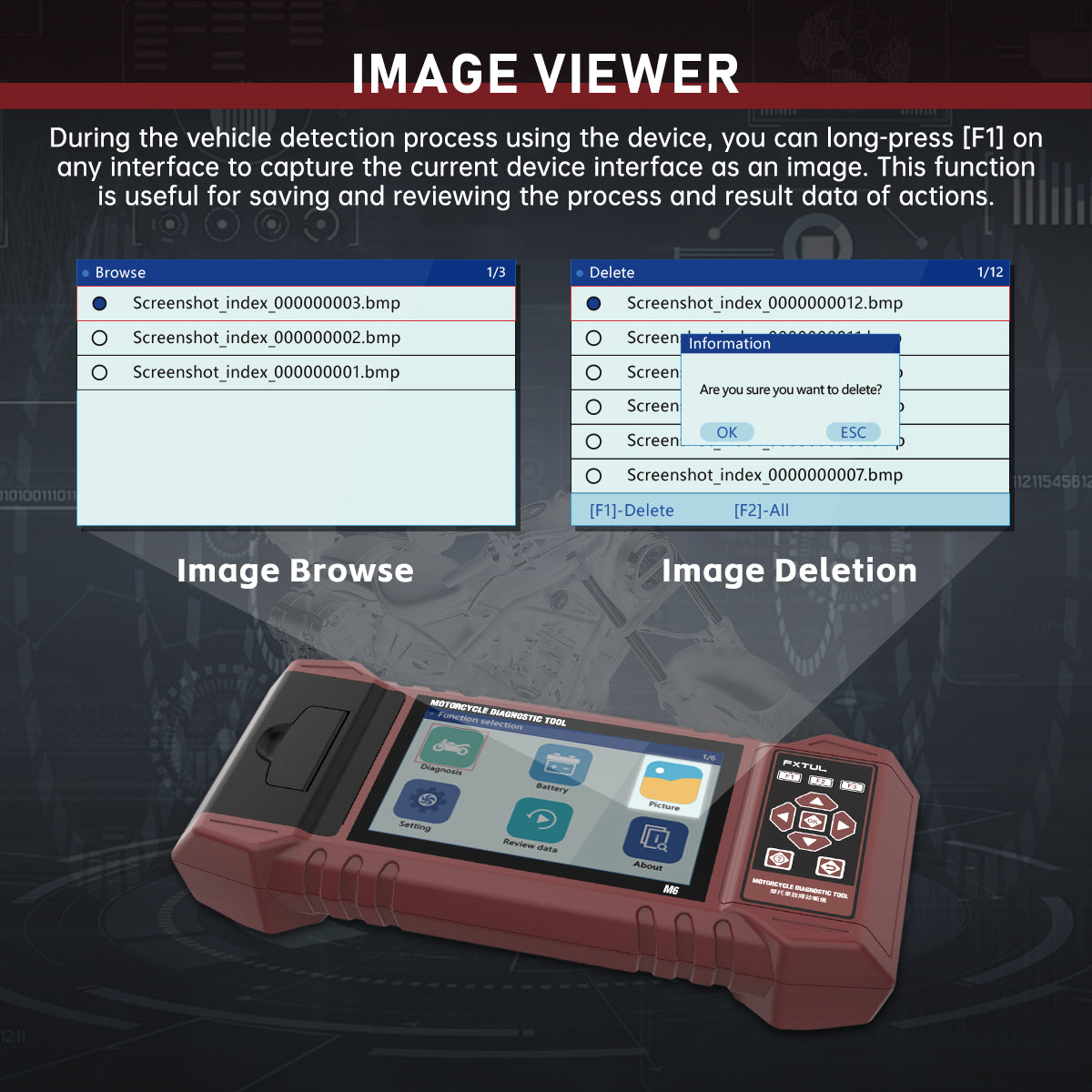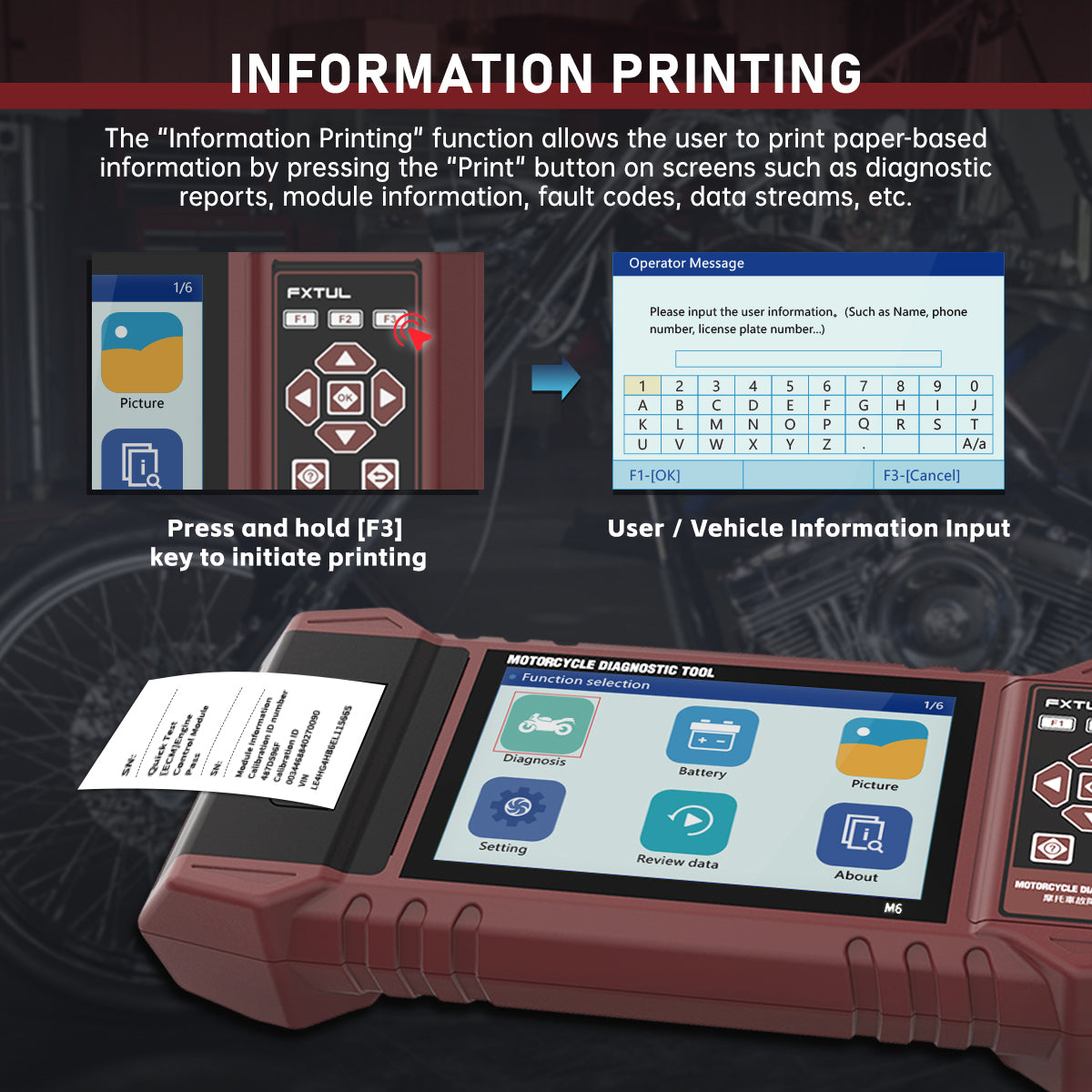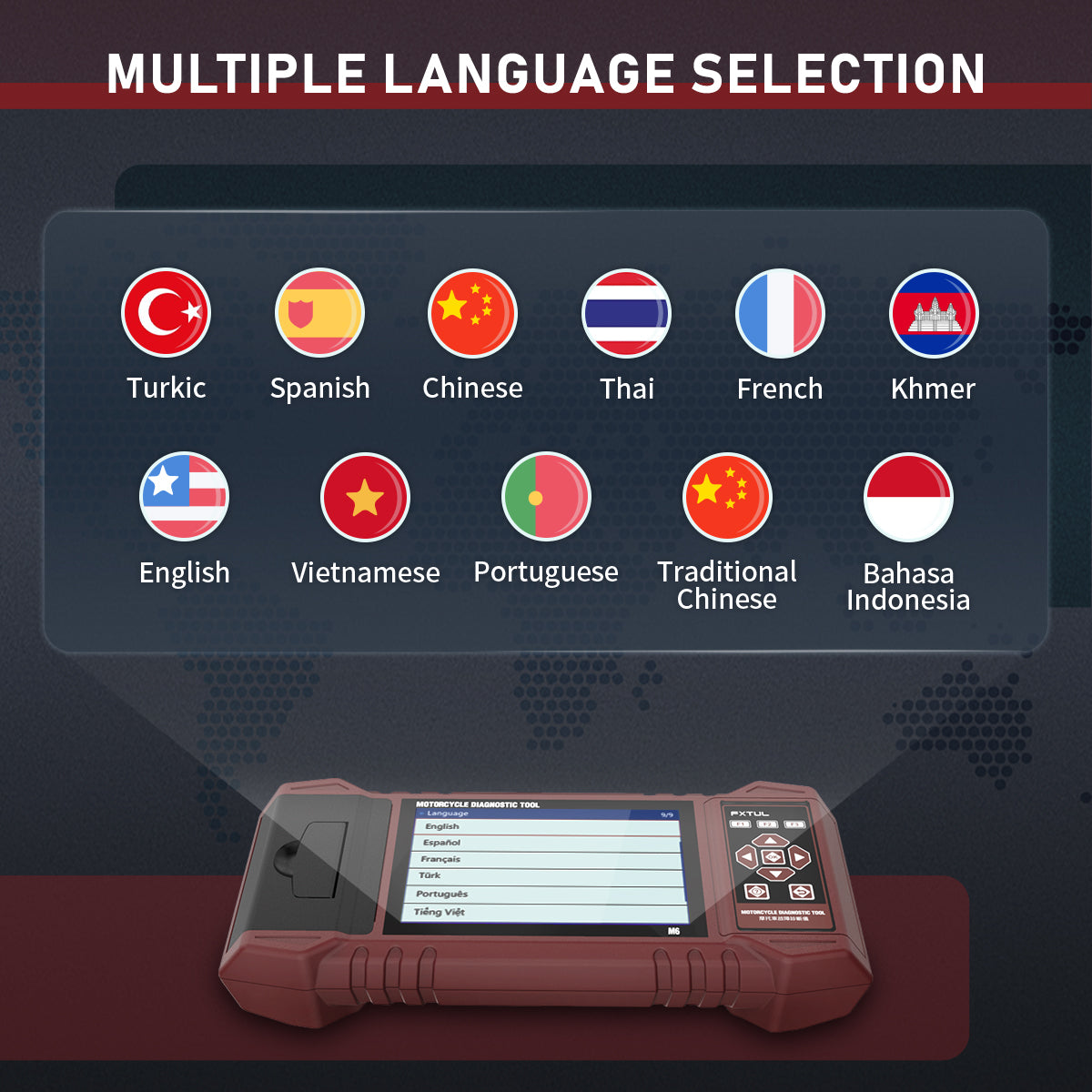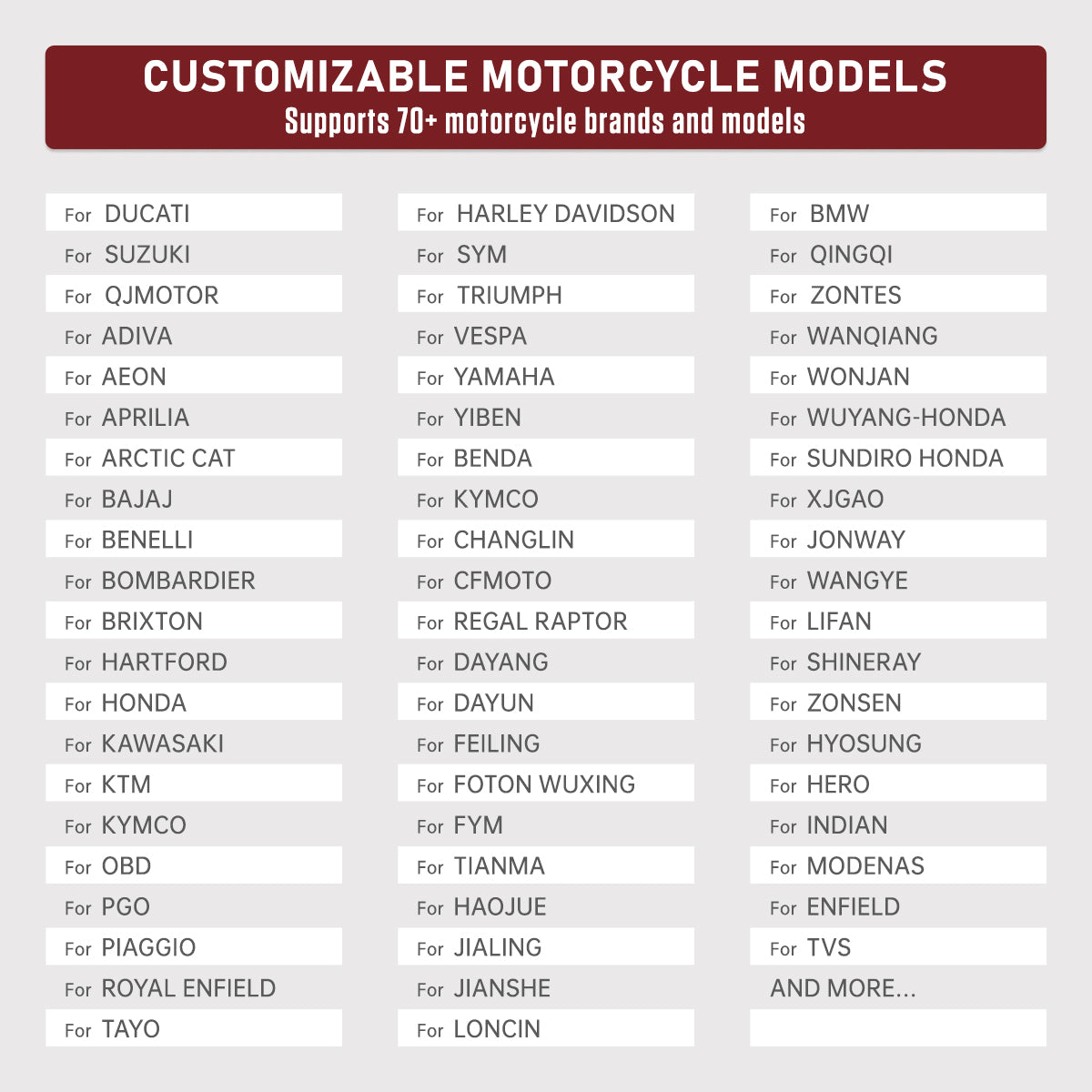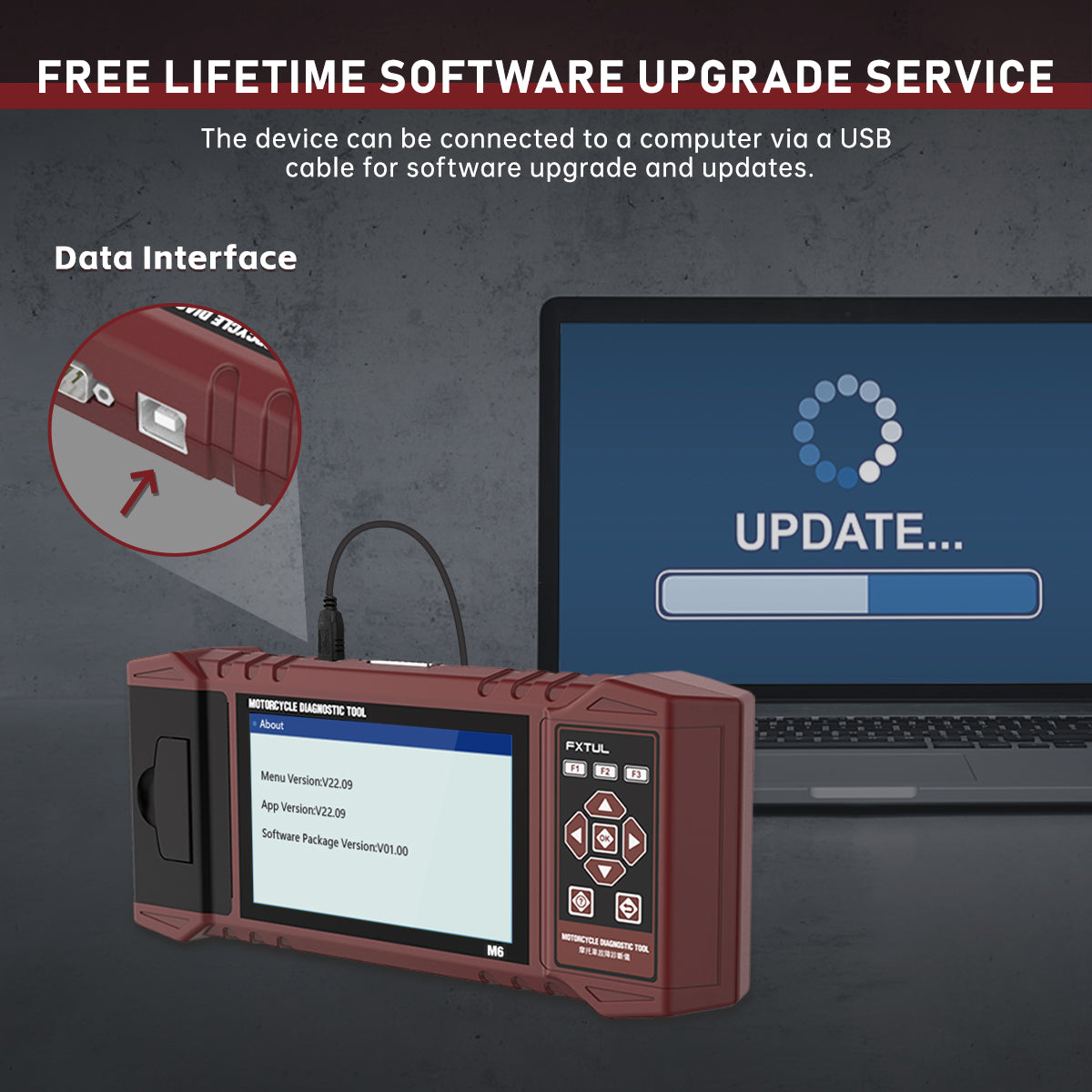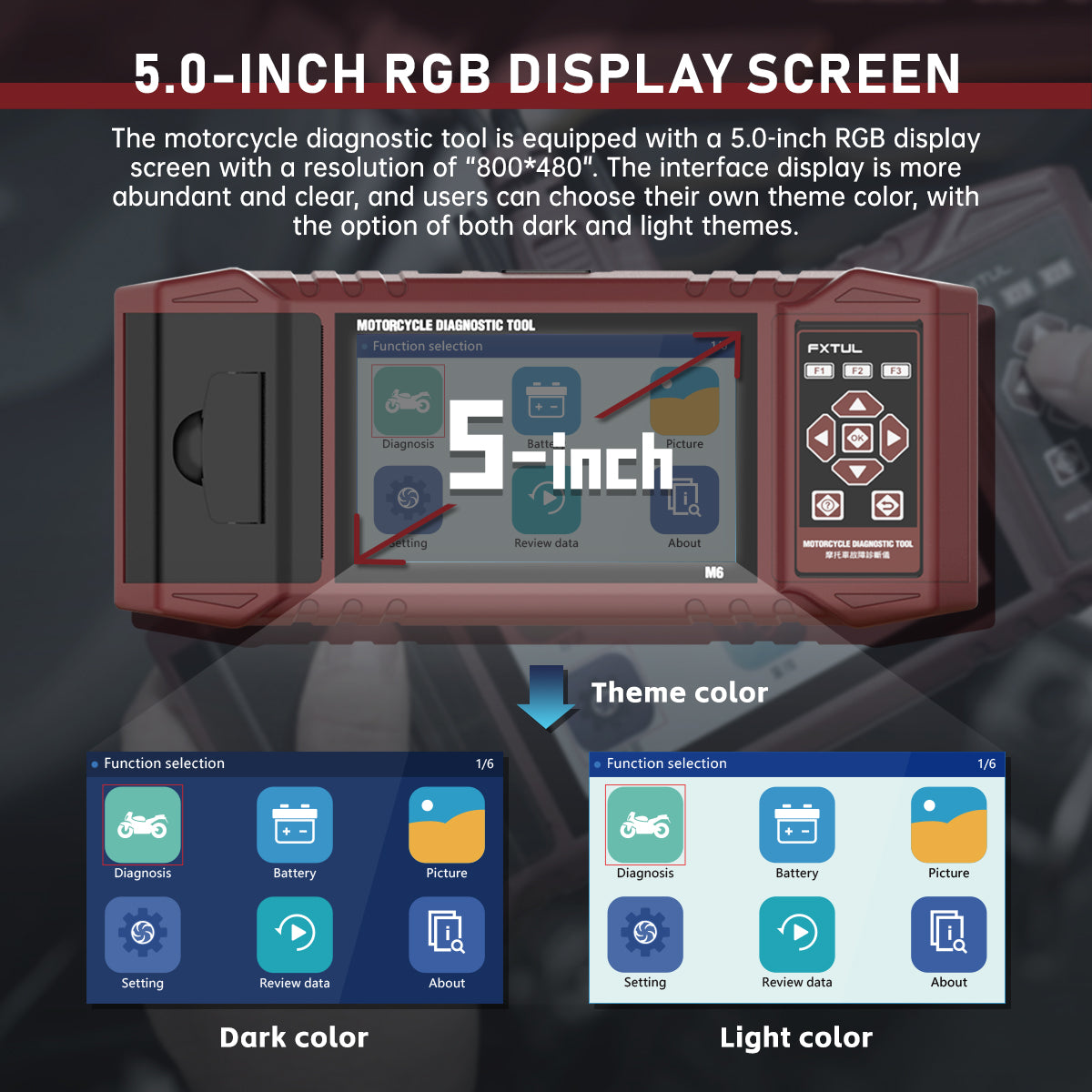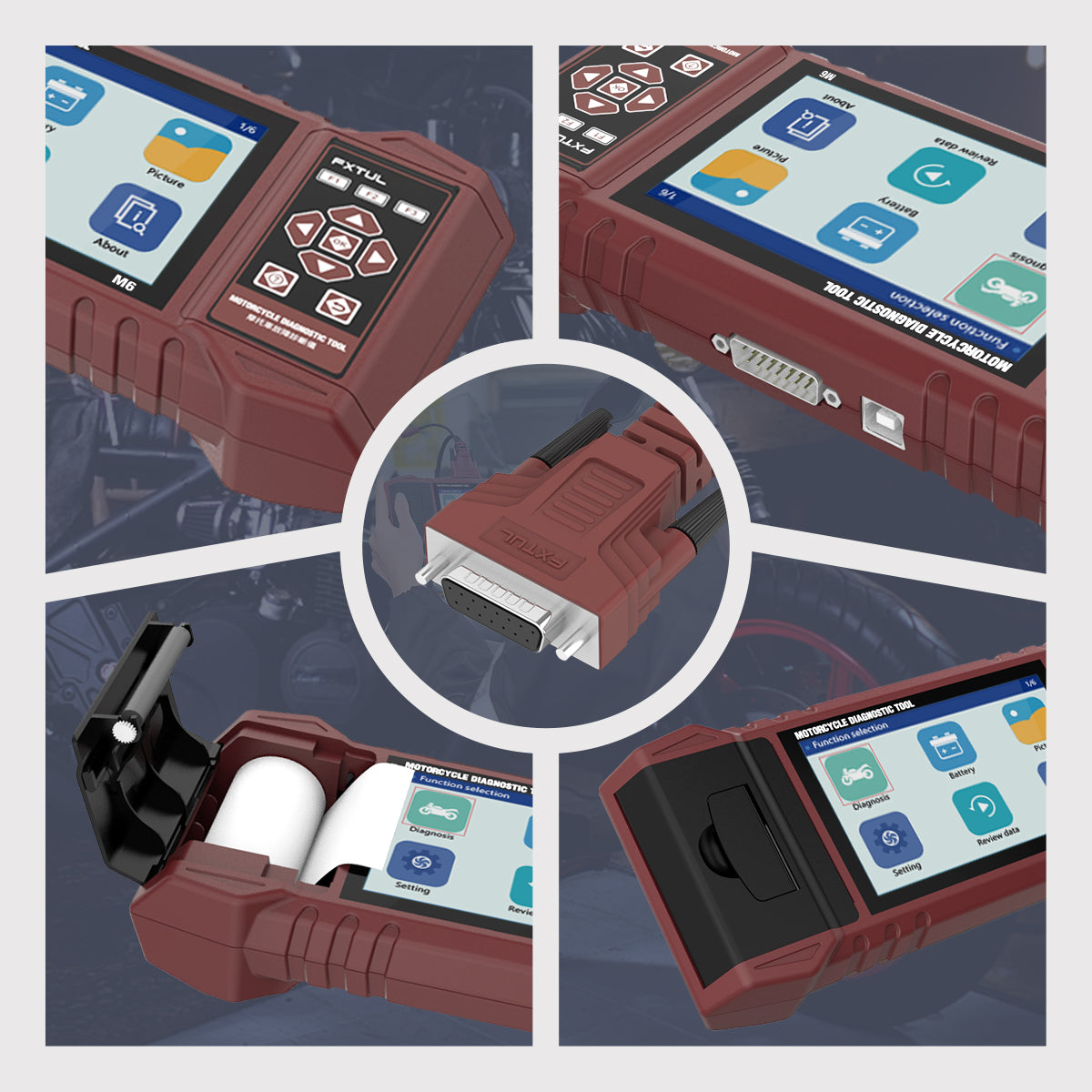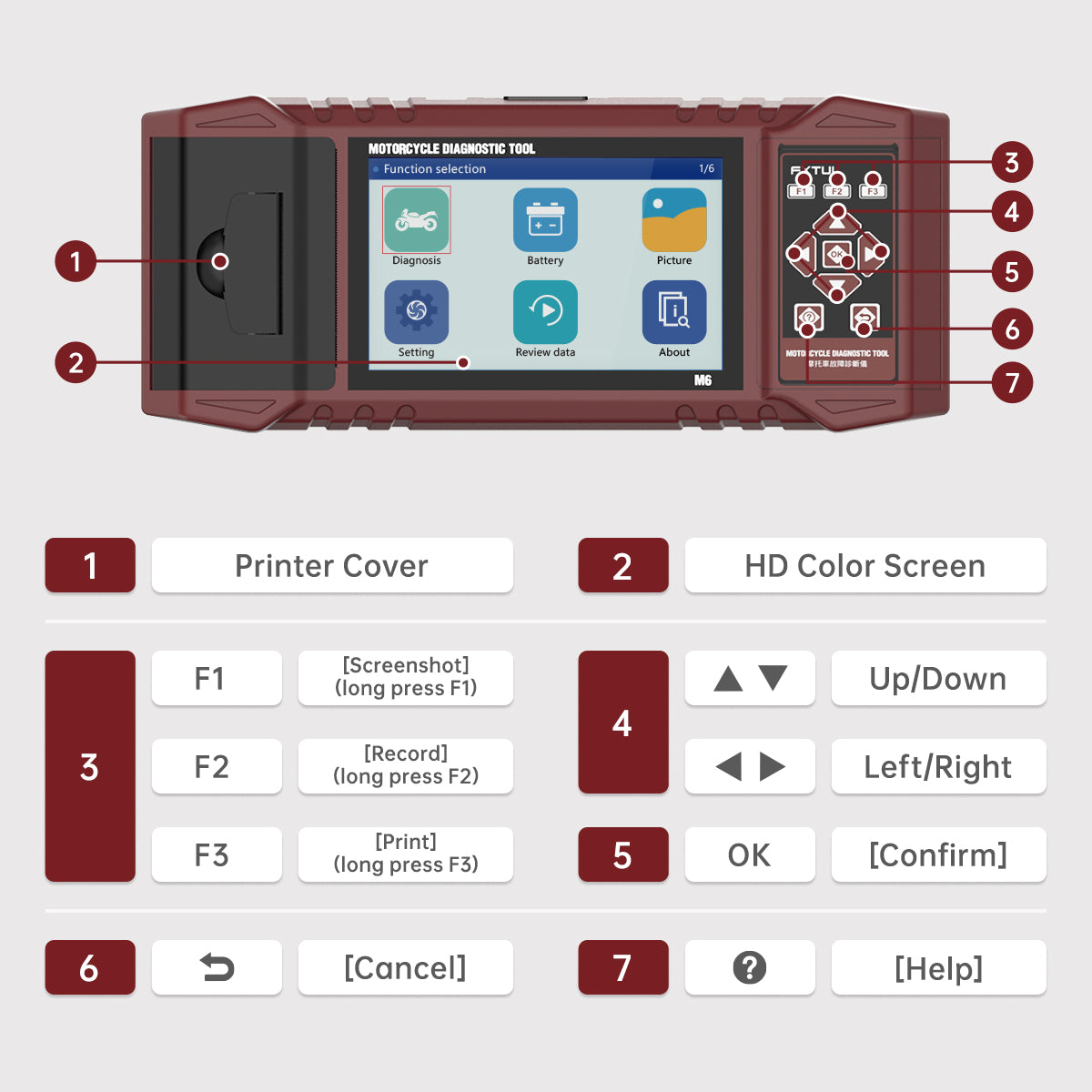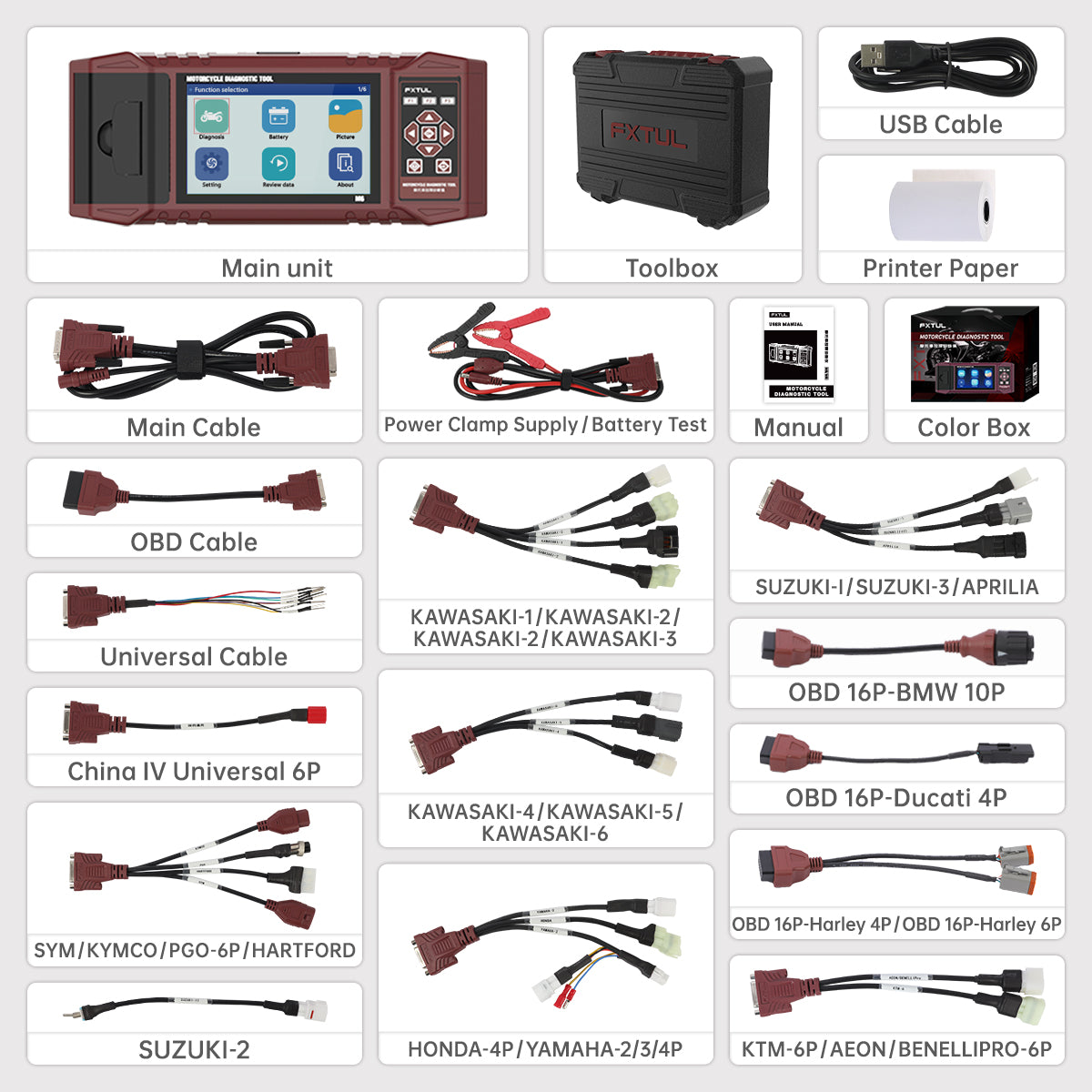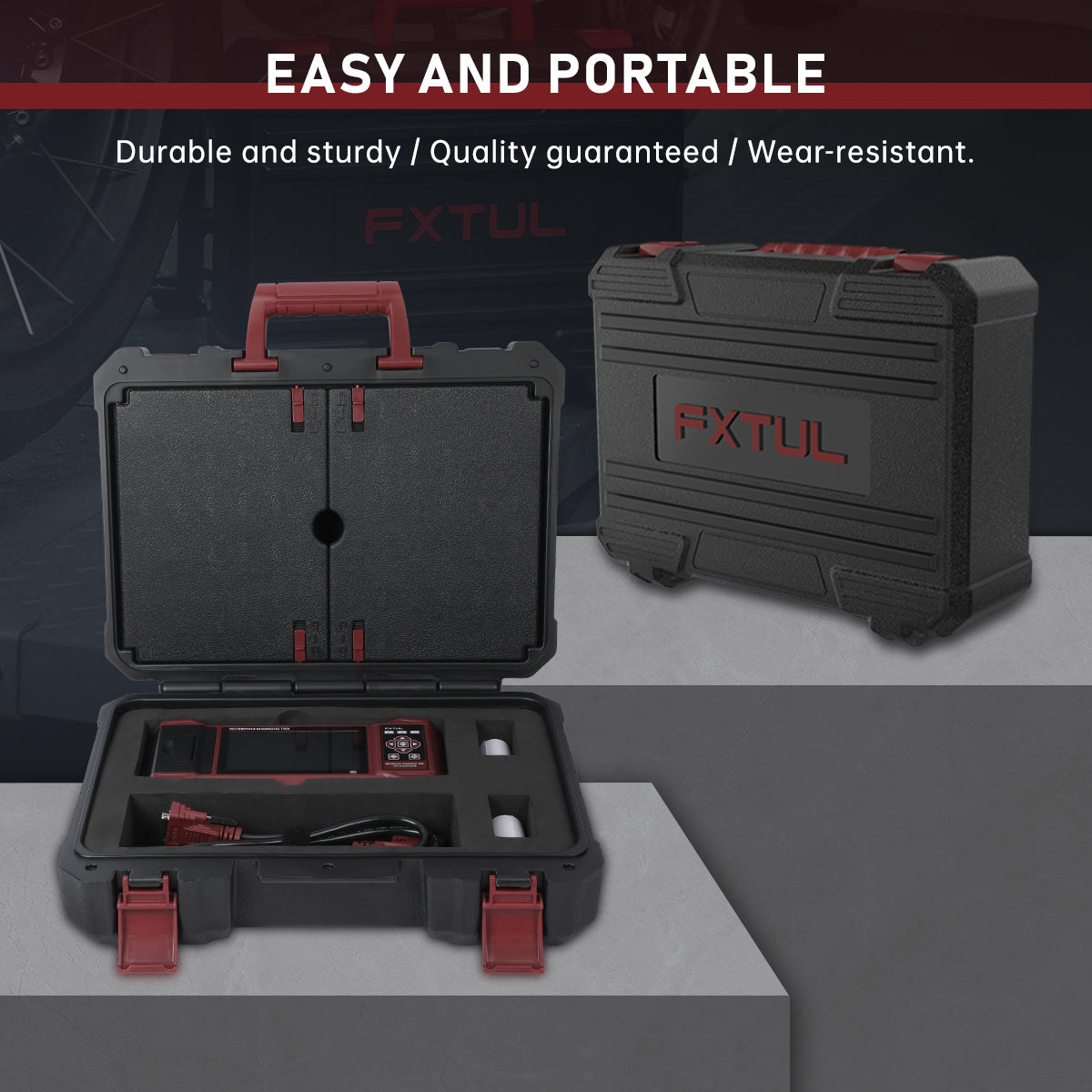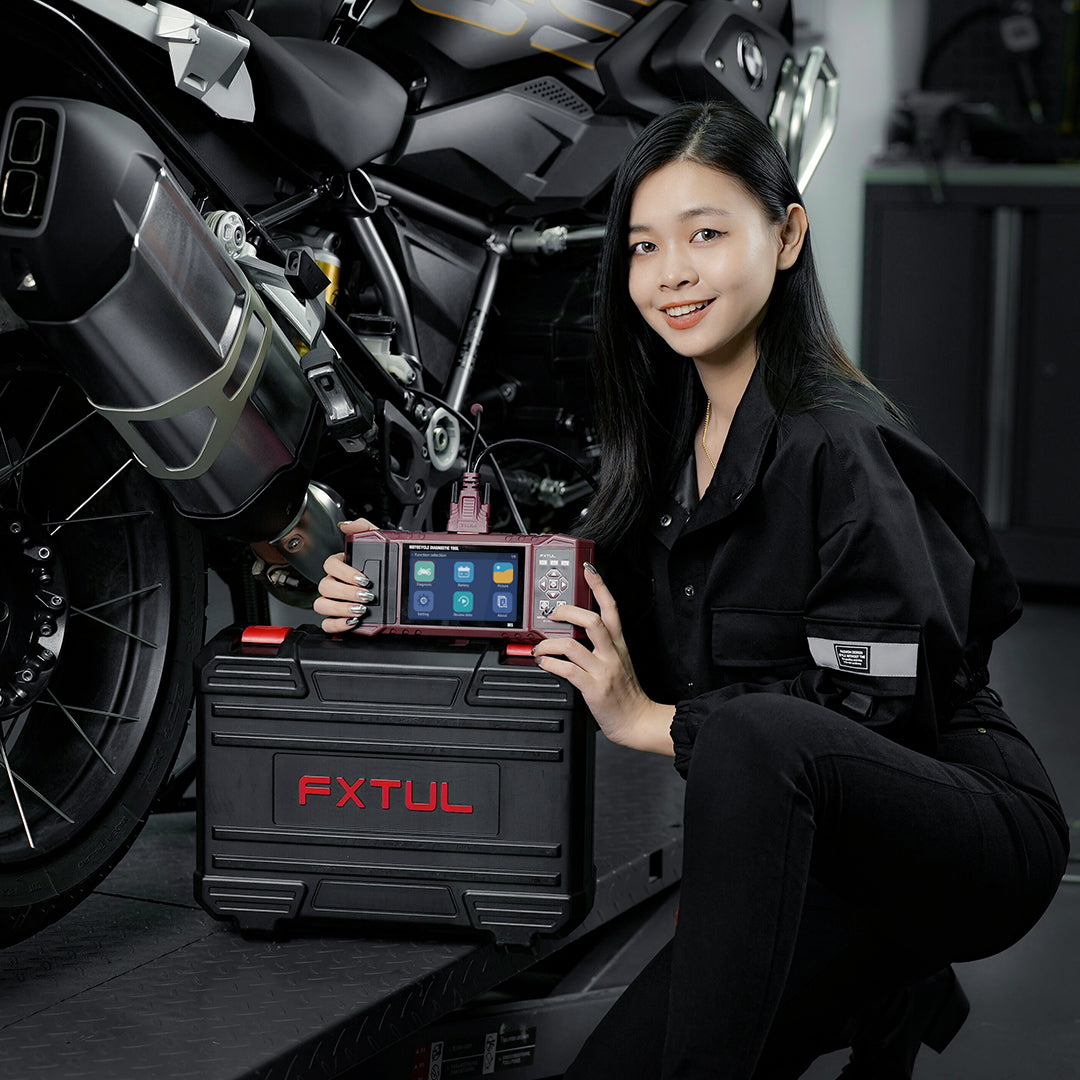 Collapsible content
Shipping

Please refer to the SHIPPING POLICY for details. The products are free shipping. If the shipping location you choose is in your country, no tariff is required. Otherwise, you will need to pay customs duties upon receipt of the goods. The specific rate is based on the tariff policy of each receiving country.
Note: Packages sent from Germany to the rest of the EU are not subject to tariffs.
Service Guarantee

All FXTUL products are backed by a three-year warranty. And we provide 7-day, 24-hour customer support.
Will it allow you to see or change security pin for 2008 harley?

Please provide the model and year, I will check and reply to you, you can contact the email sales@fxtul.com, or our FB page, whatsapp

i bought the m3 how can i get the updates and add other motorcycles diag to it

You could download the software in website fxtul.com  .  Add other motorcycles? When you choose the m3 types. It only supports the list brands .

will this unit work on a 2005 Harley Davidson dana fuel injected super glide

I'm not sure about the model you mentioned, is it a 'dyna'? There is no guarantee of support in 2005. If there are other vehicles that can be used, it is recommended to buy.

Hello, I can't find the update for M6?

visit our website fxtul.com.  In the menu there is a download option.

Please use a computer to access, it is a direct download link.

Thanks!

Trae cable par las bajaj / Bring cable for the bajaj

Recently, we have received a lot of requests for bajaj, and we will arrange it as soon as possible

Buongiorno, volevo sapere se supporta la lingua italiana / Hello, I wanted to know if it supports the Italian language

It is not supported now, and we will increase the follow-up demand or customization.

Hallo, FXTUL M6 motorfiets diagnostisch kan ik deze ook gebruiken voor een moto guzzi v85tt van 2019 / FXTUL M6 motorcycle diagnostic can I also use this for a 2019 moto guzzi v85tt

Sorry, it is not in our support list. But as a European model, you can try OBD

Will this work on 2017 Quadrovehicles Quadro 3?

Sorry, M6 is not supported at the moment.

Trae obd2??

Yes, it can support OBD2.

Will this work on 2013 ducati multistrada 1200s

Yes, it can support.

Does this scanner include adapters?

It includes all adapters for 70 brands of motorcycle diagnosis such as BMW Honda Yamaha KTM Ducati Harley, if you have any questions, please feel free to contact sales@fxtul.com

Can M6 print any reports on motorcycles?

Yes. M6 can print the test report.

How often will the device be updated? Will the update include new motorcycle models? How much will future upgrades cost?

Our diagnostics are updated from time to time. The specific installation software can be downloaded from the official website. Product software upgrades are free.

Is the software free for life?

Yes.