Regular price
$196.00 USD
Regular price
$269.00 USD
Sale price
$196.00 USD
Unit price
per
Sale
Sold out
Hard Starting, Rough Idle, Sooty Exhaust, Lack of Performance, and Poor Part Throttle Acceleration are all symptoms of dirty injectors. FXTUL UNT50 Ultrasonic Fuel Injector Cleaner is a professional ultrasonic cleaner. It will help us clean the fuel injectors of motorcycles and cars.

It supports all cars and motorcycles. This equipment uses ultrasonic cleaning technology to clean the fuel injection nozzles of motorcycles and can clean some small parts according to size. It is incredibly convenient and simple to operate.

UNT50 support For 100% Cars & Motorcycles Support for Audi, Australia Ford, Benz, BMW, Brilliance, Chevrolet, Chevy, Chrysler, Citroen, Dacia, Dadi, Daewoo, Daihatsu, Demo, Fiat, Ford, GM, Holden, Honda, Hyundai, Isuzu, Jaguar, Kia, Lancia, Land Rover, Mahindra, Maruti, Mazda, Mitsubishi, Nissan, Opel, Peugeot, Porsche, Renault, Romeo, Rover, Saab, Seat, Skoda, Smart, Subaru, Suzuki, Tata, Toyota, Volvo, VW, Yamaha.
UNT50 Specification:
1. Detergent outlet
2. Working time
3. Time setting
4. ON/OFF witch
5. Time setting
6. Power switch
7. Power socket
8. Cleaning tank
9. Pulse line

Working environment:
Ambient temperature: -10℃~+40℃
Relative humidity: <85%
External magnetic field strength: <400A/m
Note: (open flames are strictly prohibited within 2m around)

Technical indicators:
Power supply: AC220V/110V
Ultrasonic cleaning frequency: 28KHZ±0.5KHZ
Ultrasonic cleaning power: 70W
Time: 0~20 minutes (adjustable)
Cleaning tank volume: 178×165x100 mm³

Operation Steps:
1. Connect UNT50 to the power supply.
2. Power on.
3. Connect the pulse signal cable with the injector.
4. Put the cleaning holder in the launder, and put the injector into the holder hole.
5. Add enough injector detergent into the ultrasonic cleaner.
6. Press the key of the time setting, and set the working time.
7. Turn on the power switch to start cleaning. When the is up, UNT50 will stop automatically.
8. Make the detergent flow out from the outlet.

Package List:
1x UNT50 Injector Ultrasonic Cleaner
1x UNT50 Cleaning Tank Cover
1x Pulse Signal Line
1x Power Cord
1x Wash Tank Bracket 1
1x Wash Tank Bracket 2
1x Manual

The FXTUL machine and the accessories included in it enjoy a 3-year warranty from the date of receipt by the customer.
Warranty method:
1. Repair or replace the equipment according to the specific failure situation;
2. We guarantee that all replaced parts, accessories, or equipment are brand new;

The free warranty no longer covers the following conditions:
1. Purchase FXTUL products through informal channels;
2. Damage caused by use and maintenance, not in accordance with the requirements of the product manual.
Safety Precautions
*If the power cord is damaged, please do not turn it on and use it.
*It is strictly forbidden to open the ultrasonic system without adding a cleaning agent to the ultrasonic cleaning tank, otherwise the ultrasonic equipment will be easily damaged.
For more details, please refer to the FXTUL UNT50 Ultrasonic Fuel Injector Cleaner Manual.
Share
View full details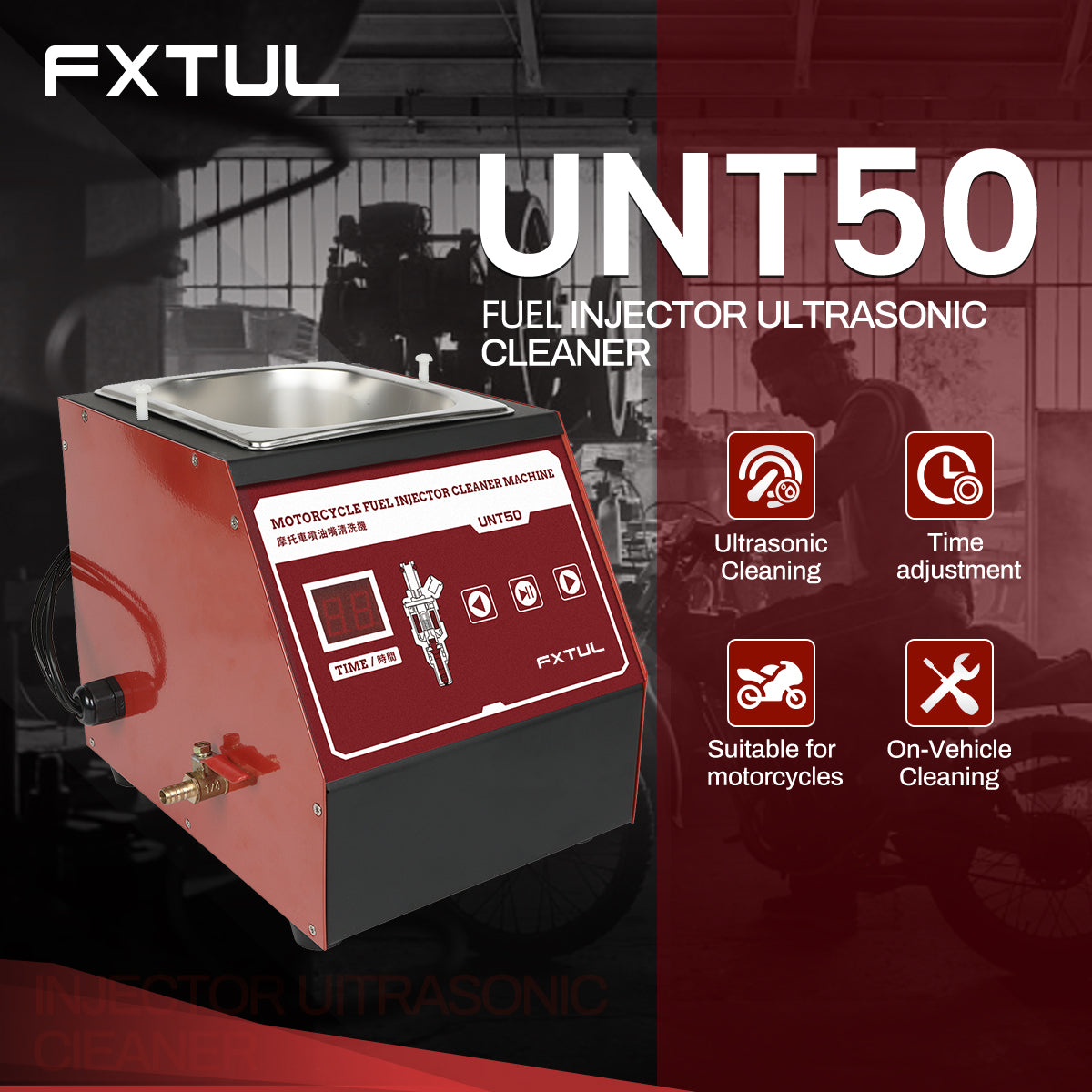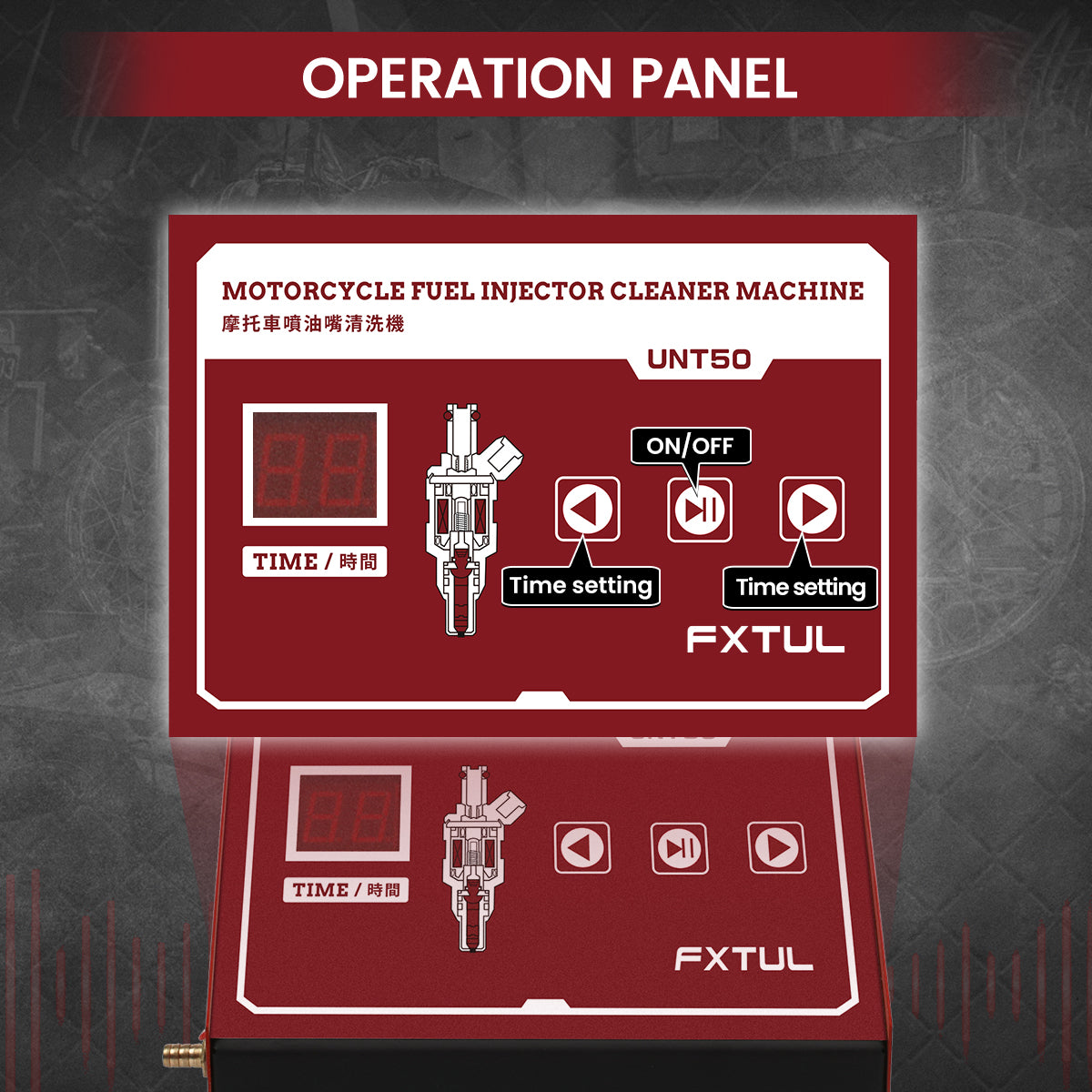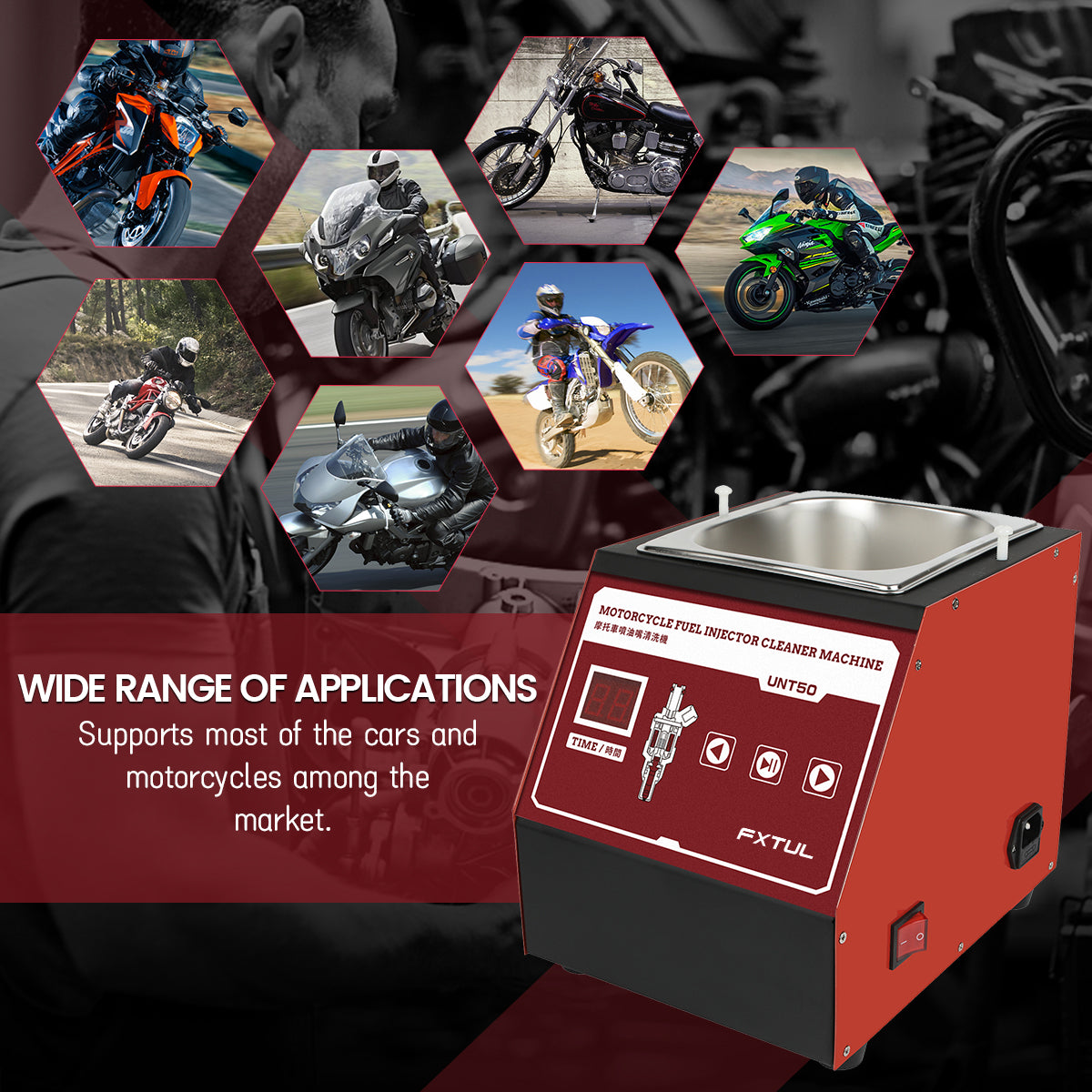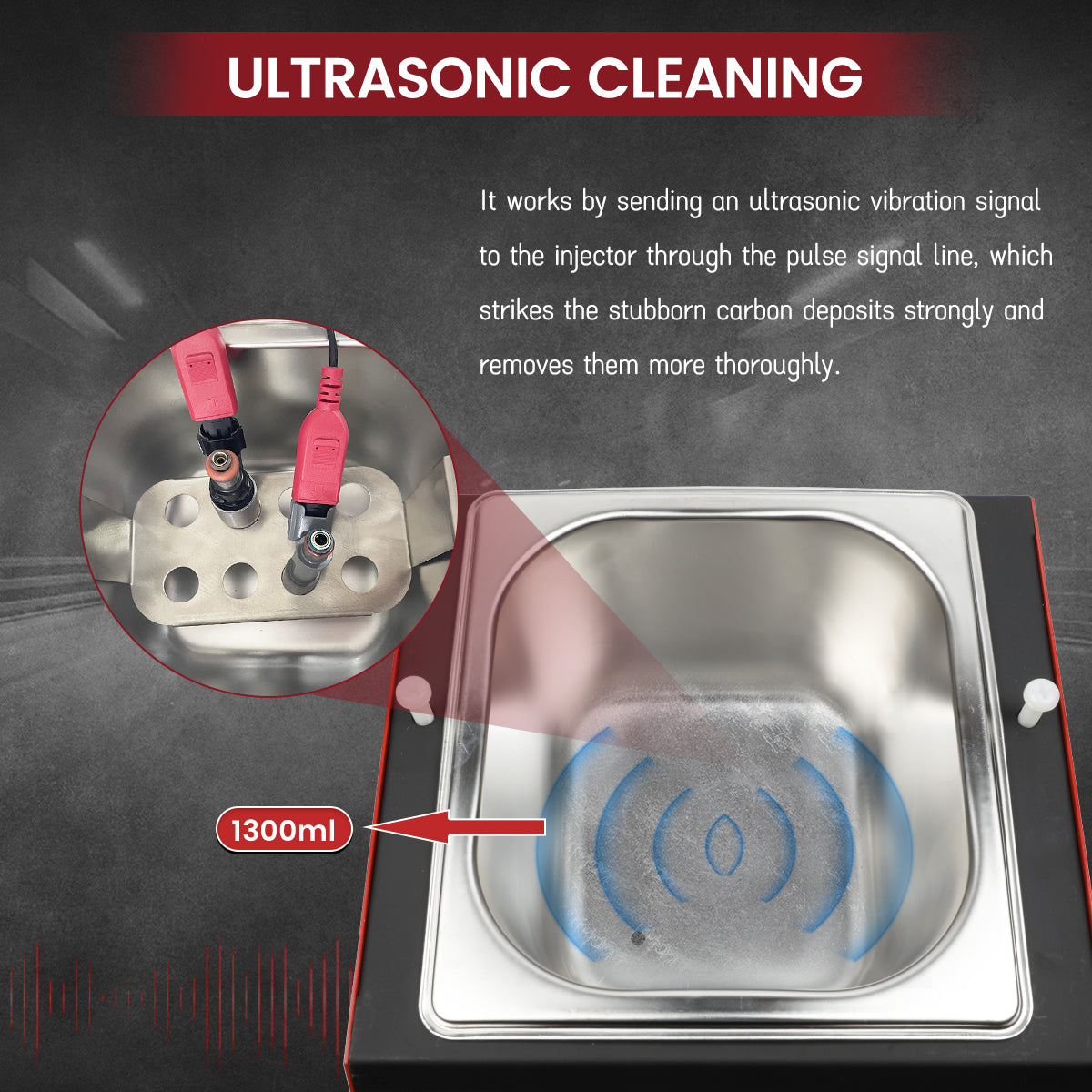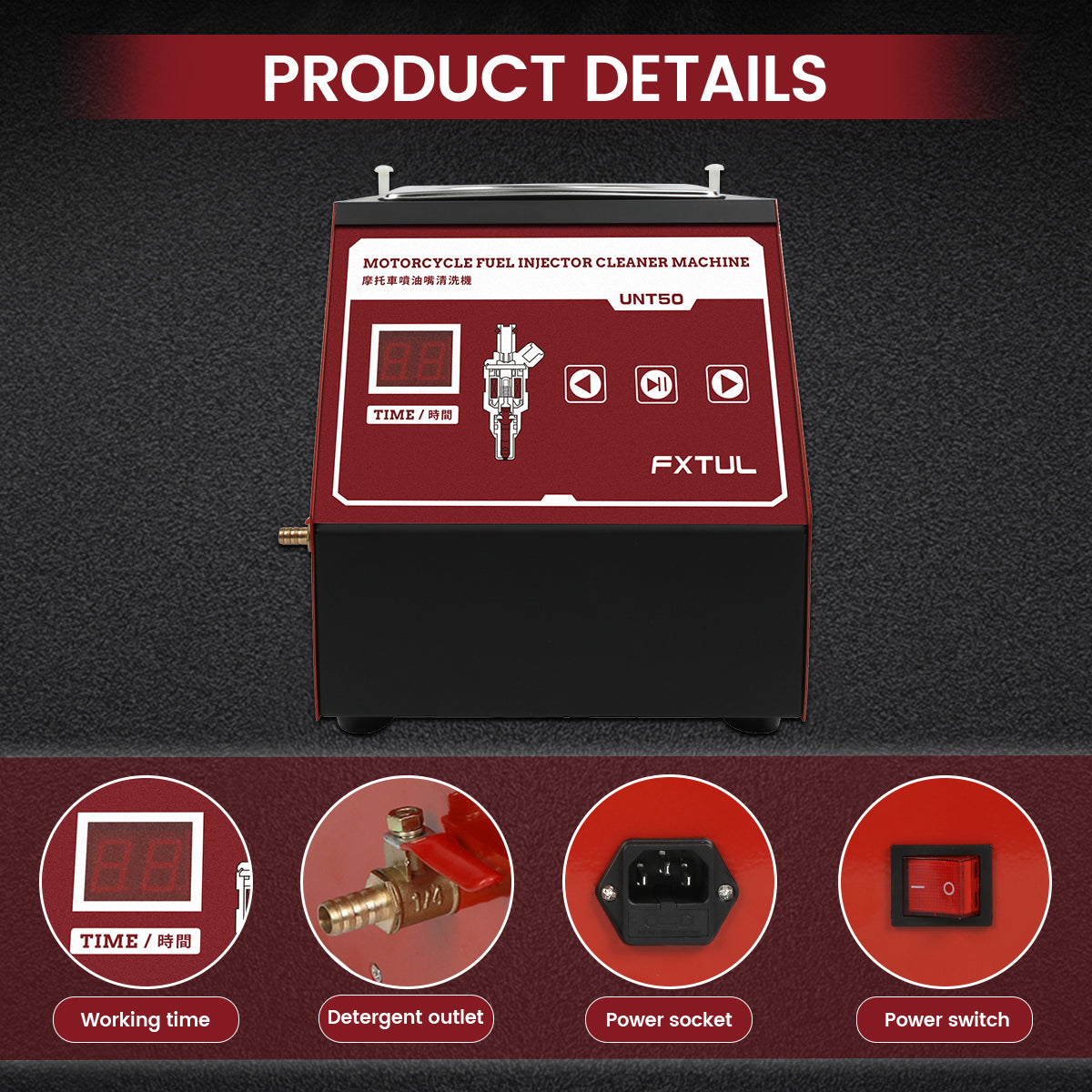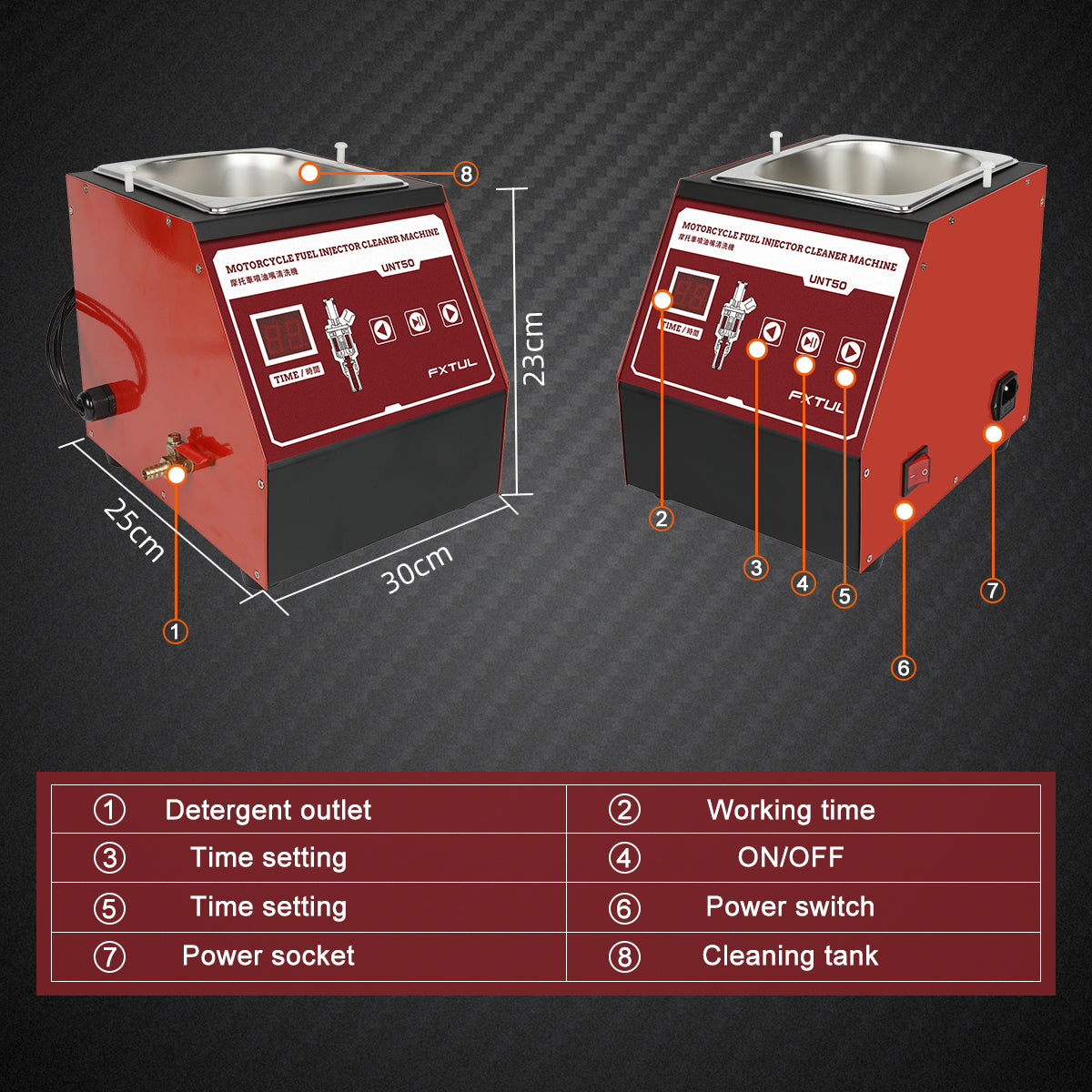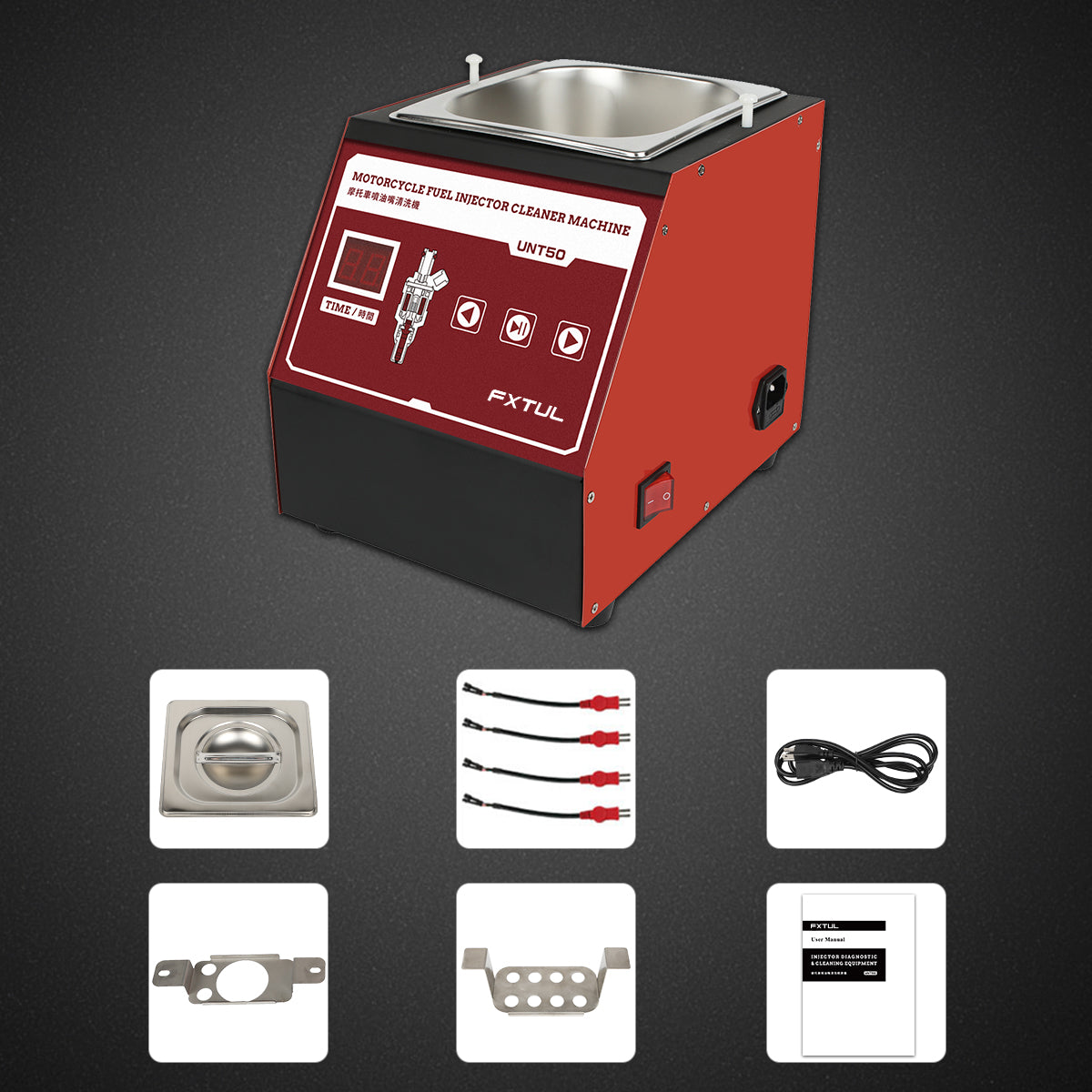 Collapsible content
Shipping

Please refer to the SHIPPING POLICY for details. The products are free shipping. If the shipping location you choose is in your country, no tariff is required. Otherwise, you will need to pay customs duties upon receipt of the goods. The specific rate is based on the tariff policy of each receiving country.
Note: Packages sent from Germany to the rest of the EU are not subject to tariffs.
Service Guarantee

All FXTUL products are backed by a three-year warranty. And we provide 7-day, 24-hour customer support.
Which fuel injectors can the unt50 be used with?

unt50 cleaning machine supports all brands of motorcycle and car fuel nozzles.

What liquid can be used for this?

It is recommended to use special cleaning agent for automobile engine carbon deposition for ultrasonic cleaning.