Regular price
$99.00 USD
Sale price
$60.00 USD
Unit price
per
Sale
Sold out
Have you encountered the following problems before?
- Bought a similar diagnostic device before, found it slow to read codes
- Are you Tired of paying $500-$1000 per visit to the mechanic? (The amazing thing is that every problem, no matter how big or small, costs about the same to fix)
- I fixed the problem with my car, but does the check engine light/ABS/SRS/transmission warning light stay on?
If so, you need a great companion: FXTUL M3. Whether you're a DIYer or a Mechanic, this is the scan tool you've been dreaming of.
PRODUCT OVERVIEW
FXTUL M3 is a handheld motorcycle diagnostic tool for mainstream motorcycle brands and can help technicians diagnose problems faster and make repairs. This tool has functions such as voltage detection, multi-language selection, and unit switching. It has a clear interface and is easy to operate. It is a good helper for motorcycle maintenance.
DIAGNOSE
System Diagnosis Features
Supports scanning, identification, and code reading of all systems of the current model, and reports the assembly status of all systems and whether there are fault codes for each system.
Support to browse the assembly status and fault code description of all systems of the vehicle model.
Support one-click code clearing of all systems.
Display data stream with oscillogram.
Functions
Support engine / ABS / Tire pressure / Anti-theft and other systems
Read system information
Read fault code
Clear fault code
Read data stream
Read freeze frame data
Actuator test

Action test

Service function (including idle speed regulation/throttle position learning, etc.)
Advantages of FXTUL M3 OBD2 Scanner
No internet connection or setup required
Lightweight one-handed operation
Small enough to take it anywhere
It has an easy-to-view screen and is easy to operate
Multi-brand compatibility: support the diagnosis of Asian, European, and American multi-brand motorcycles
Support a variety of diagnostic tests such as reading fault codes and voltage detection, etc.
Support ECU reset
High data accuracy
With real-time data
Support 11 languages
Cost Effective: Just $56 saves a lot of money and time on repairs. If you are a repair shop mechanic, you will also experience higher customer satisfaction and increased income.
Technical Parameters
Voltage: DC10-15V
Display: 2.8 "color screen
Machine size: 16.5*8.5*2.5CM
ABOUT SOFTWARE UPGRADES
Connect the device to the computer and wait for the device to be recognized by the computer. After the recognition is successful, a new drive symbol will appear on the computer. Open this and replace the "DIAGNOSE" folder in the drive with the downloaded "DIAGNOSE" upgrade folder, and then power on again. The updated files can be obtained by contacting customer service or the official website.
For more product information, please refer to the FXTUL M3 Motorcycle Diagnostic Tool product brochure
Support services we provide
Free software upgrade
3 years warranty
24-hour customer service
Support custom 8 motorcycle models and OEM: If you have a large demand, you can tell us the motorcycle models you need to add, and we will customize the diagnostic instrument for you. At the same time, we also support OEM service, please contact customer service for details or contact us by email: sales@fxtul.com
Why choose FXTUL?
1. Leading brand of motorcycle tools
2. FXTUL official store direct sales, 100% original products
3. Technical team and factory with ten years of experience in motorcycle maintenance
4. All products support a 3-year warranty
5. Support OEM, wholesale and direct sales
Note:
1. Please follow the instructions after M3 connects the motorcycle.
2. This USB cable is powered by 5V. It is only used when the PC is connected to the product for upgrading. It cannot be connected to a quick charger higher than 5V.
Share
View full details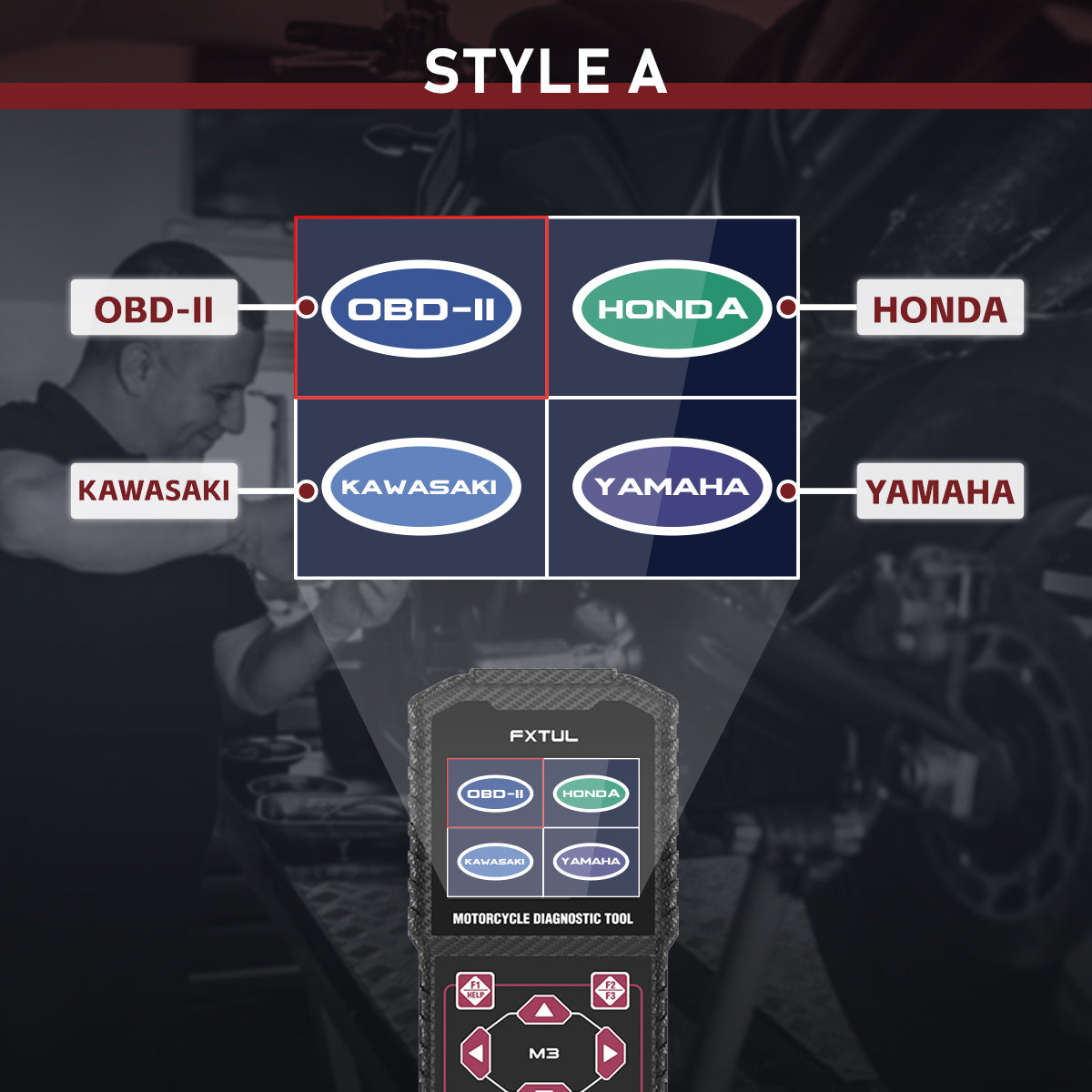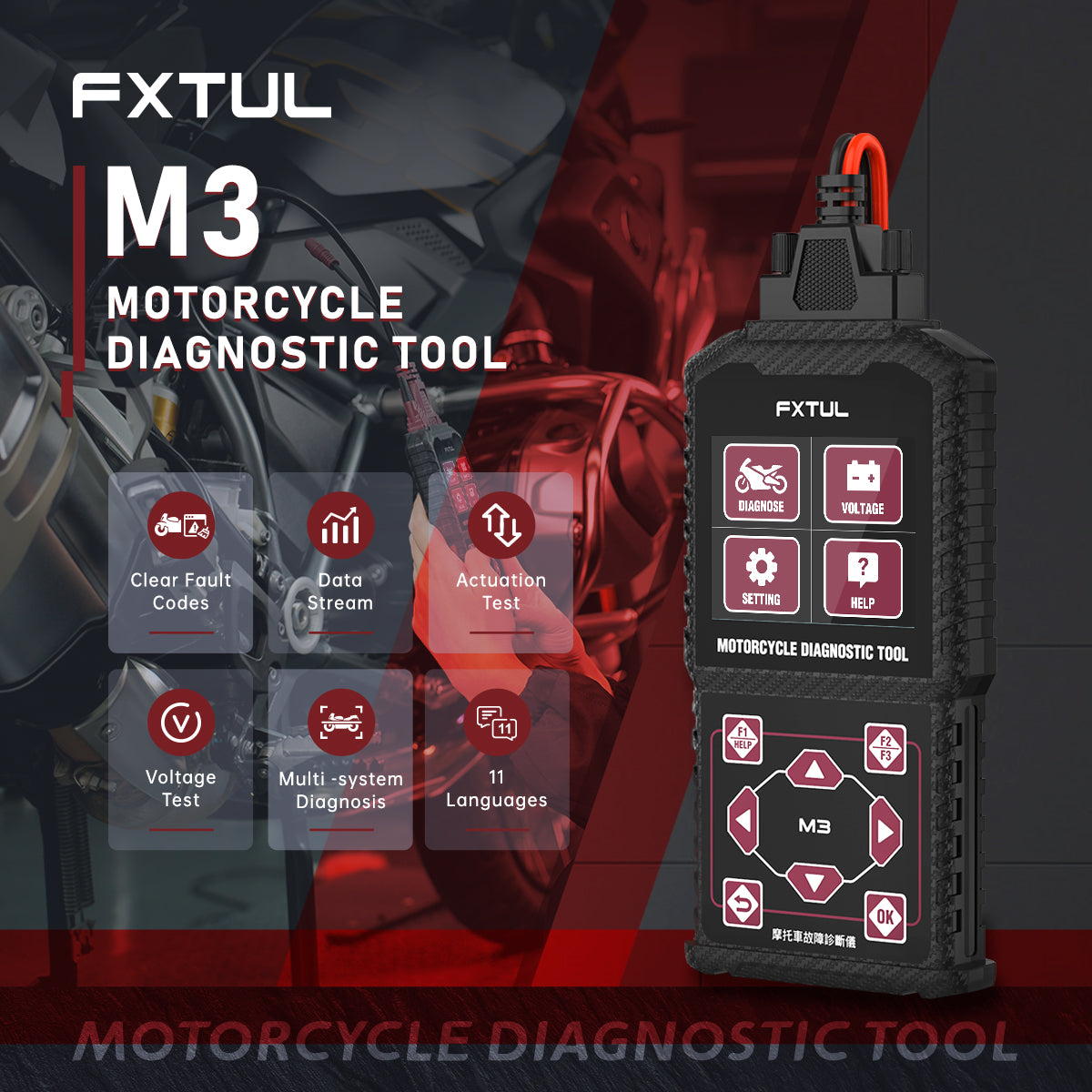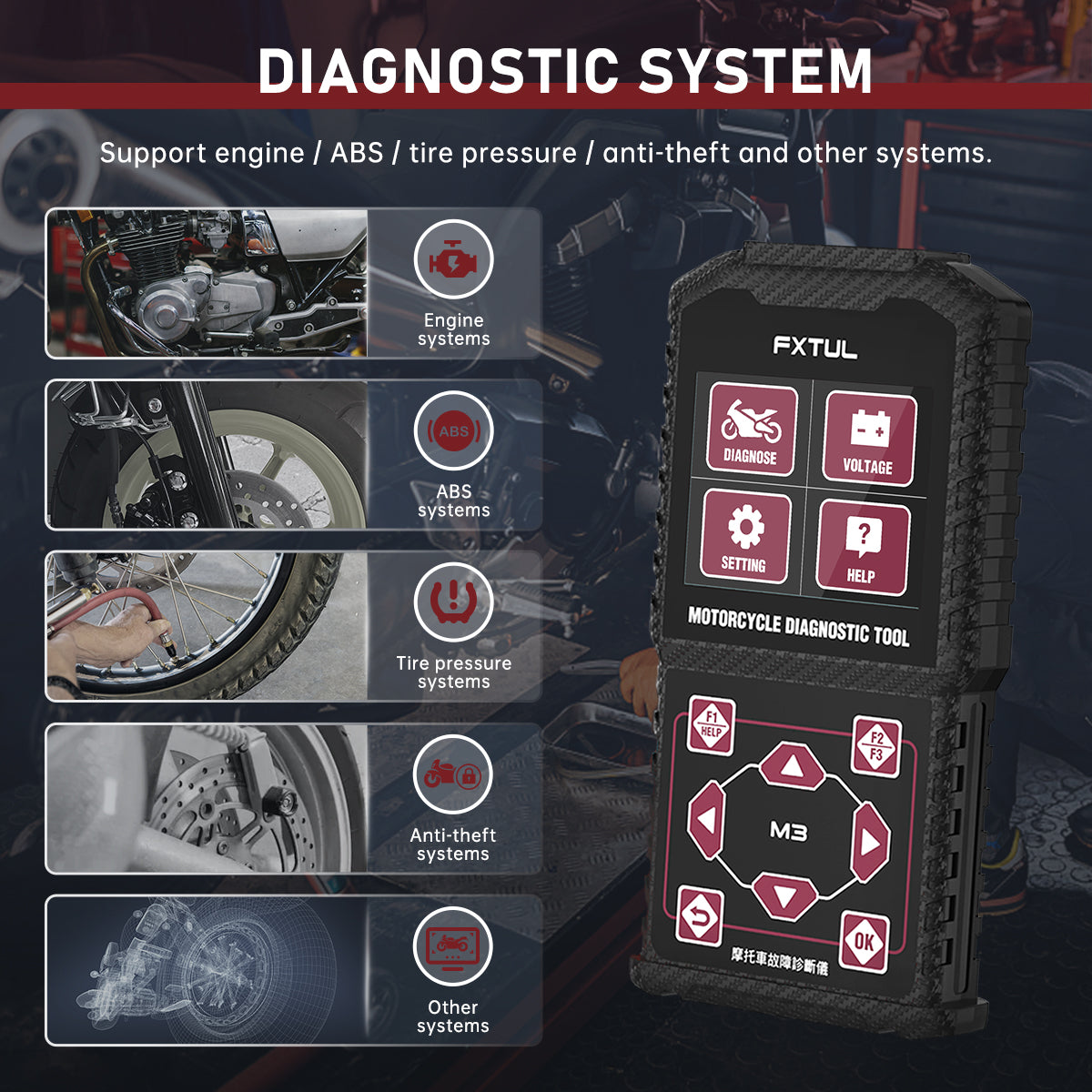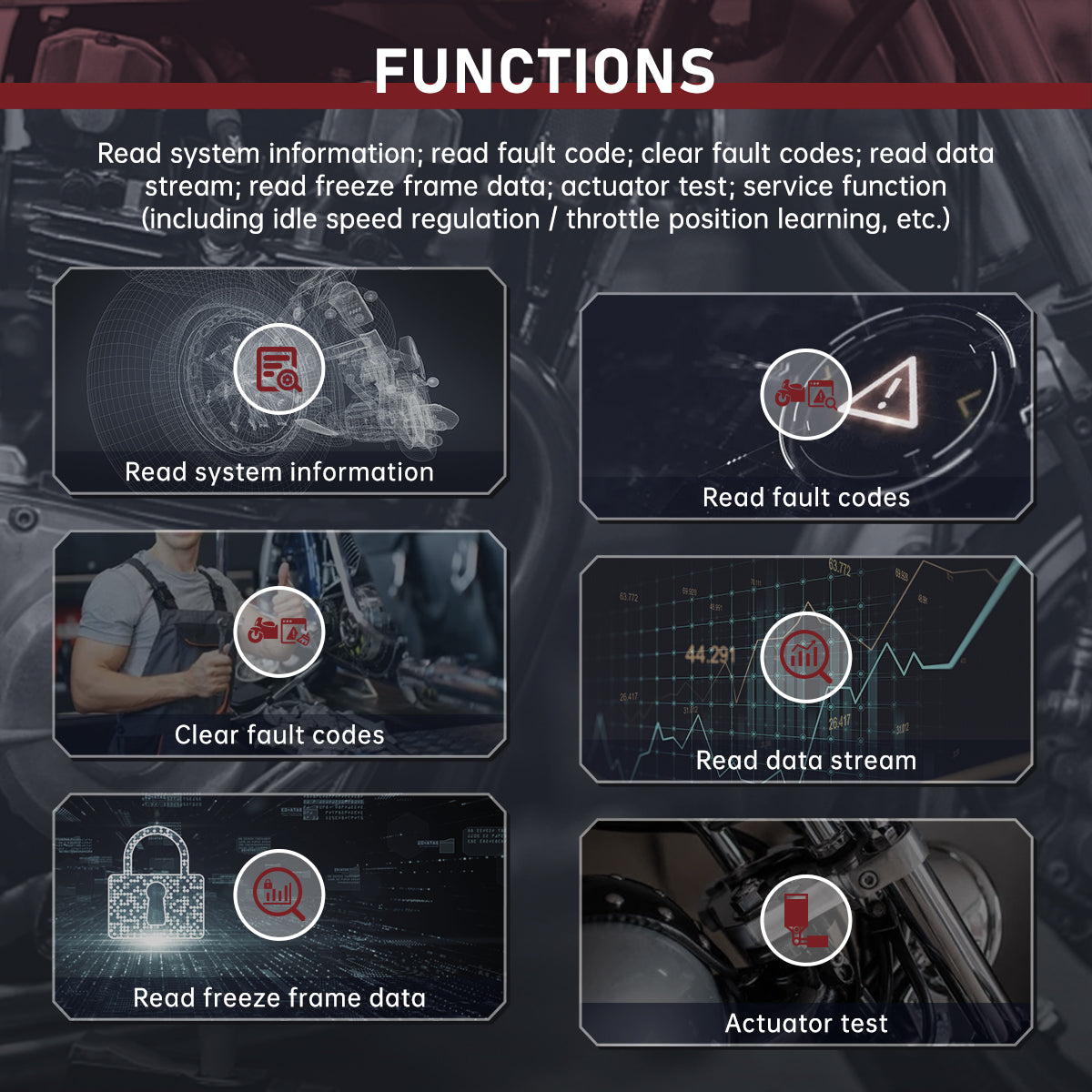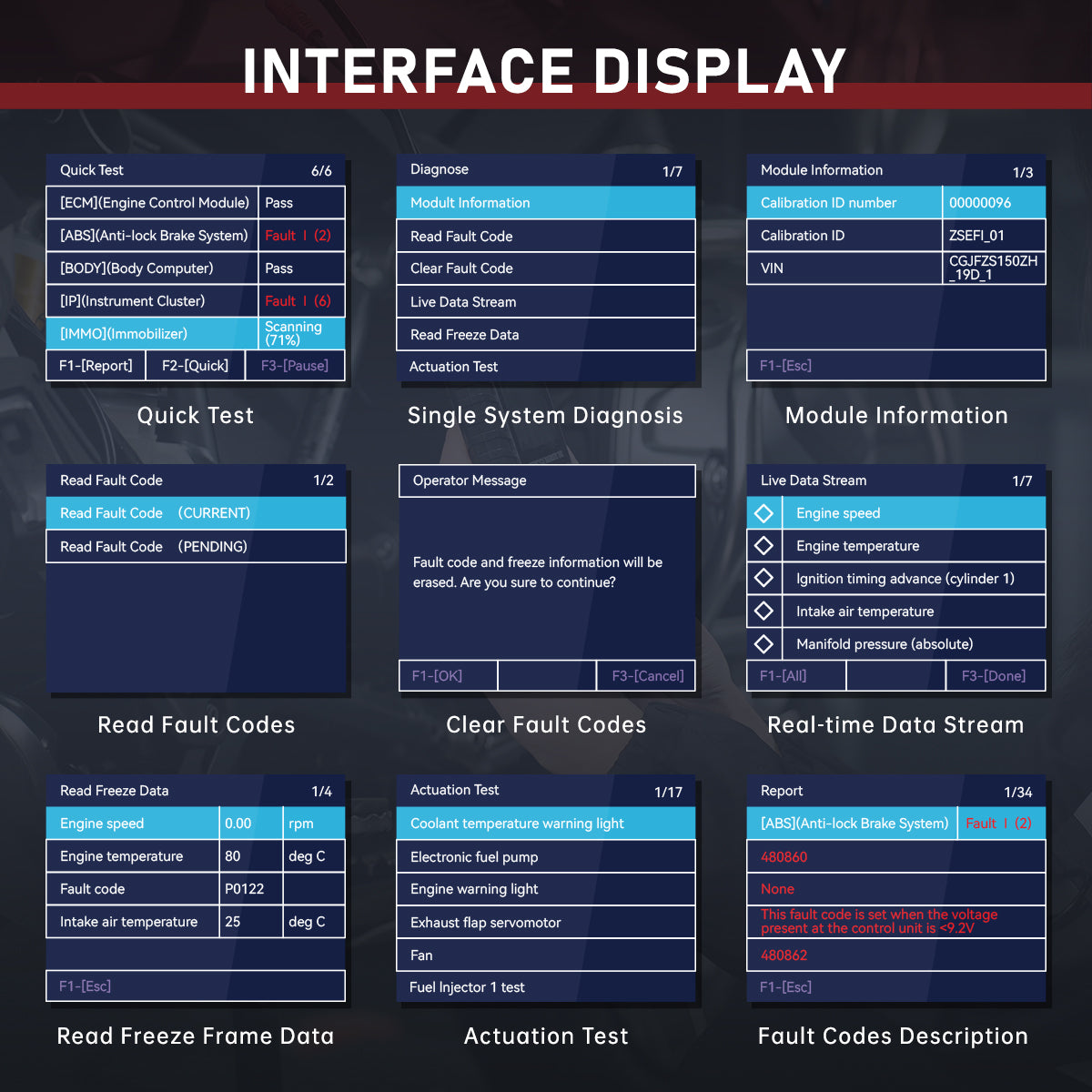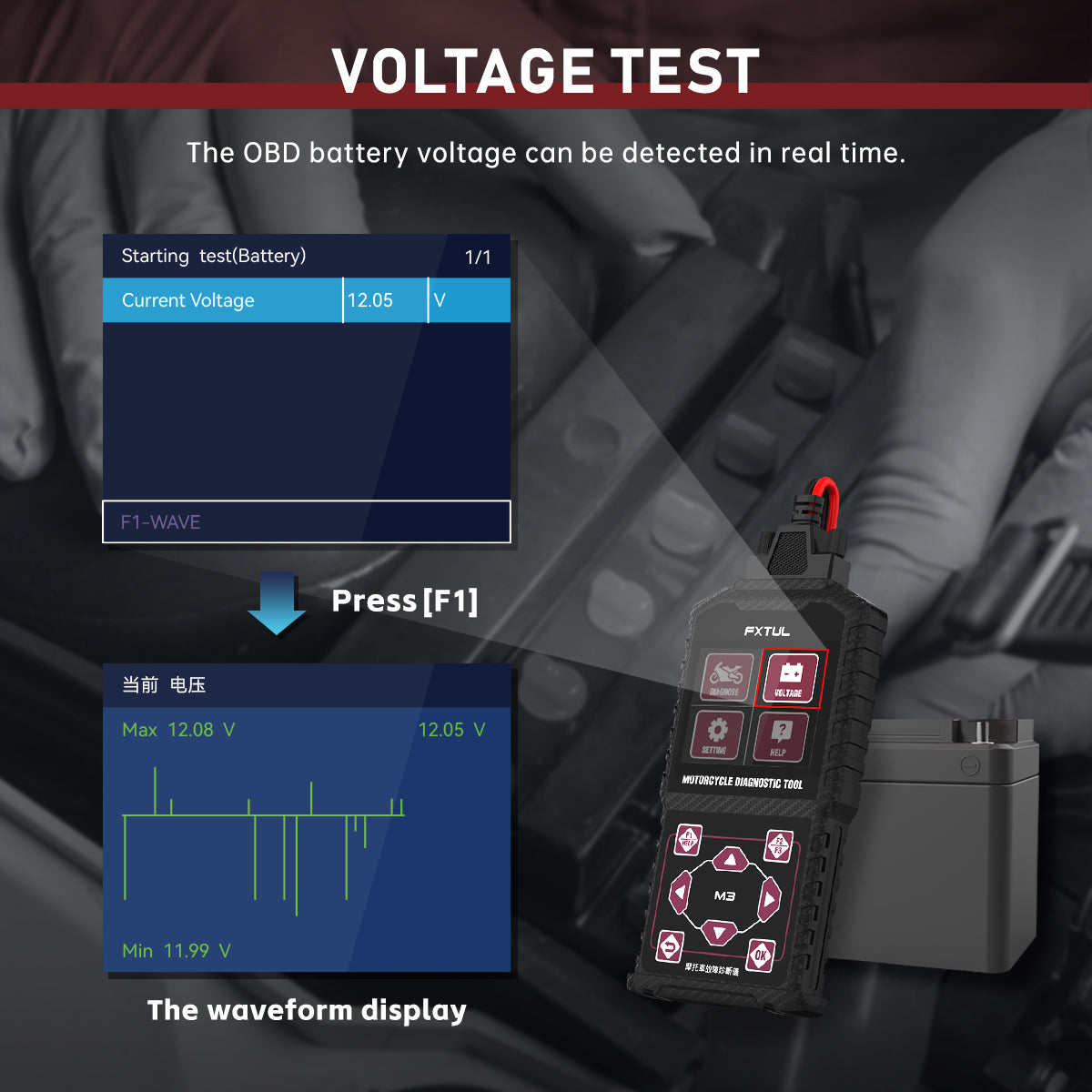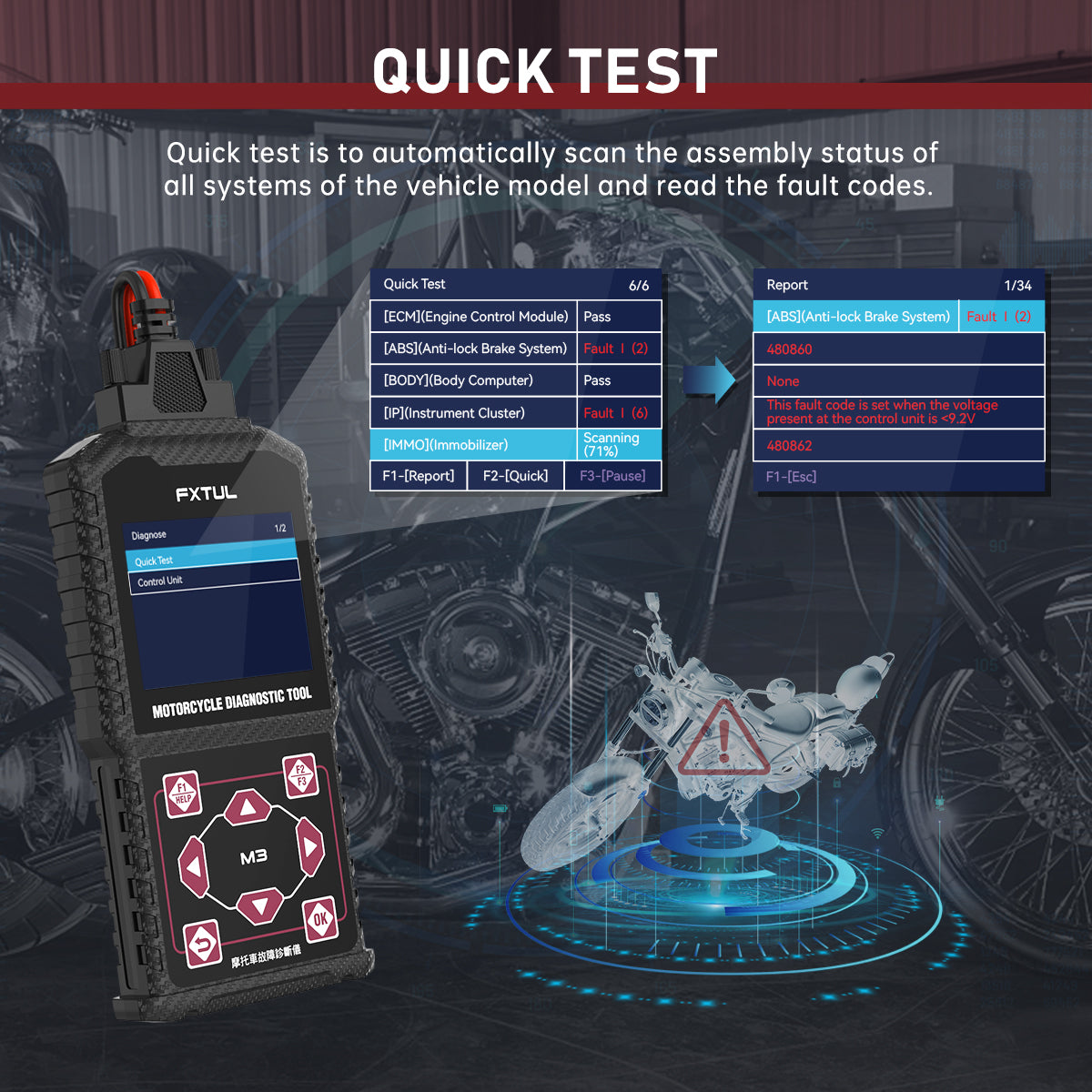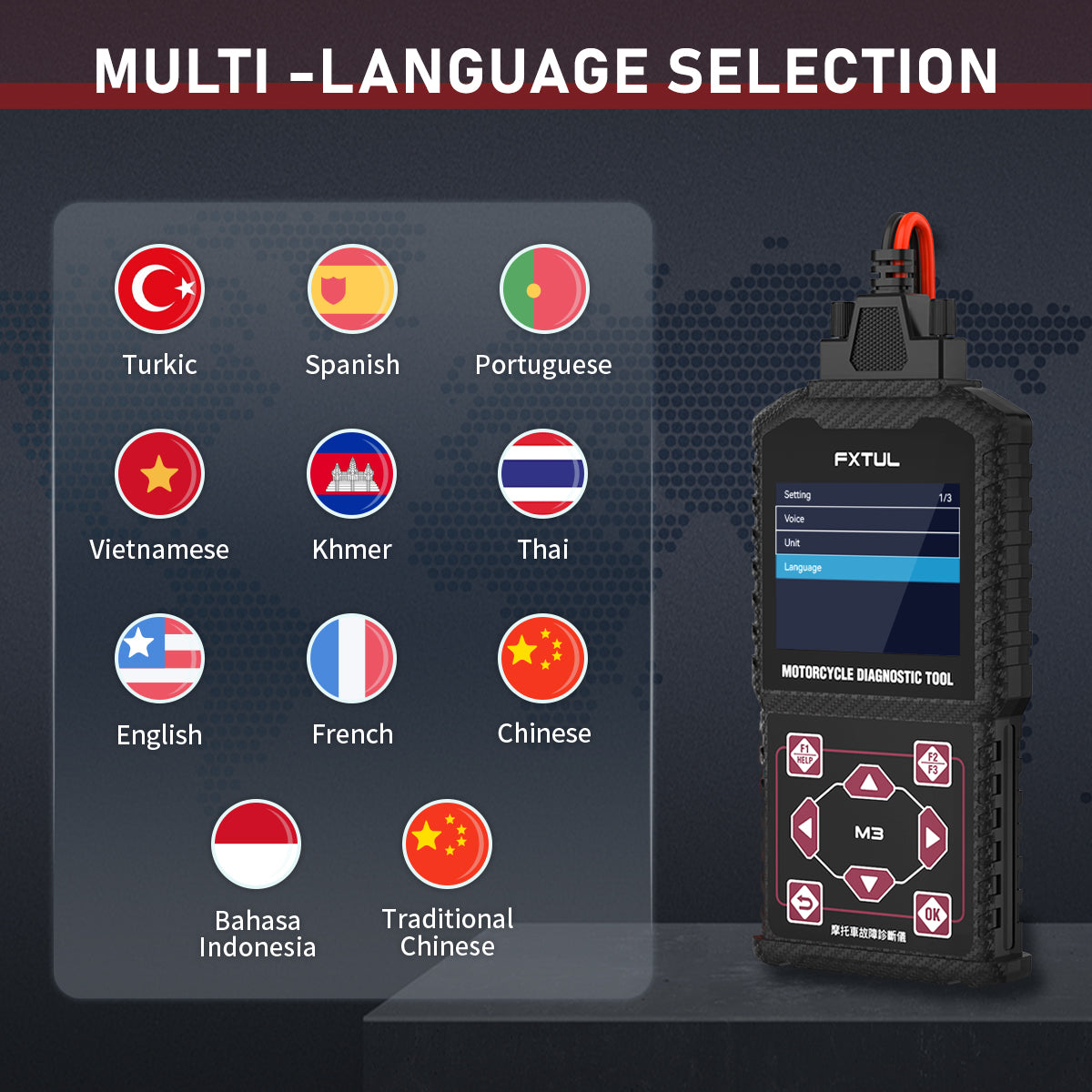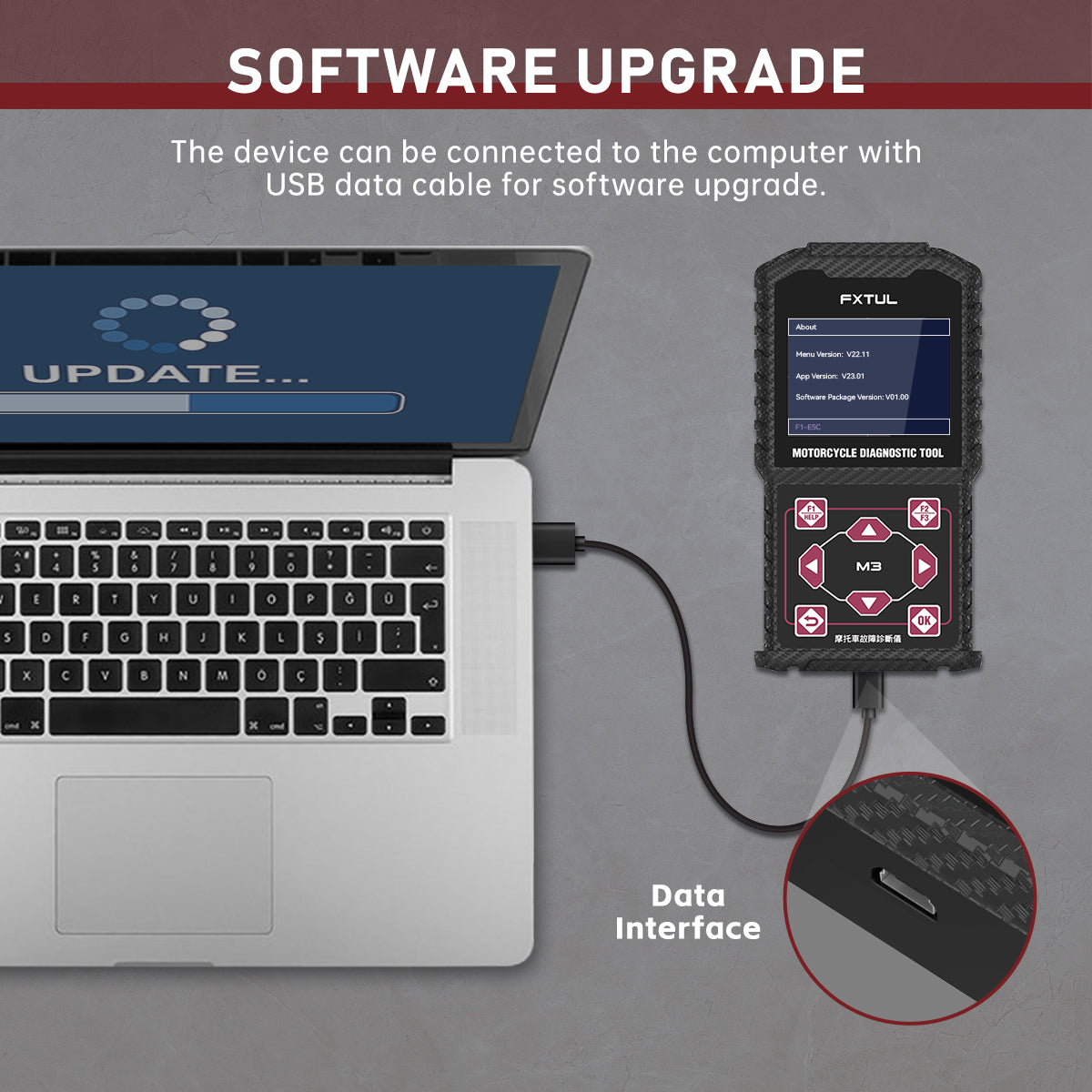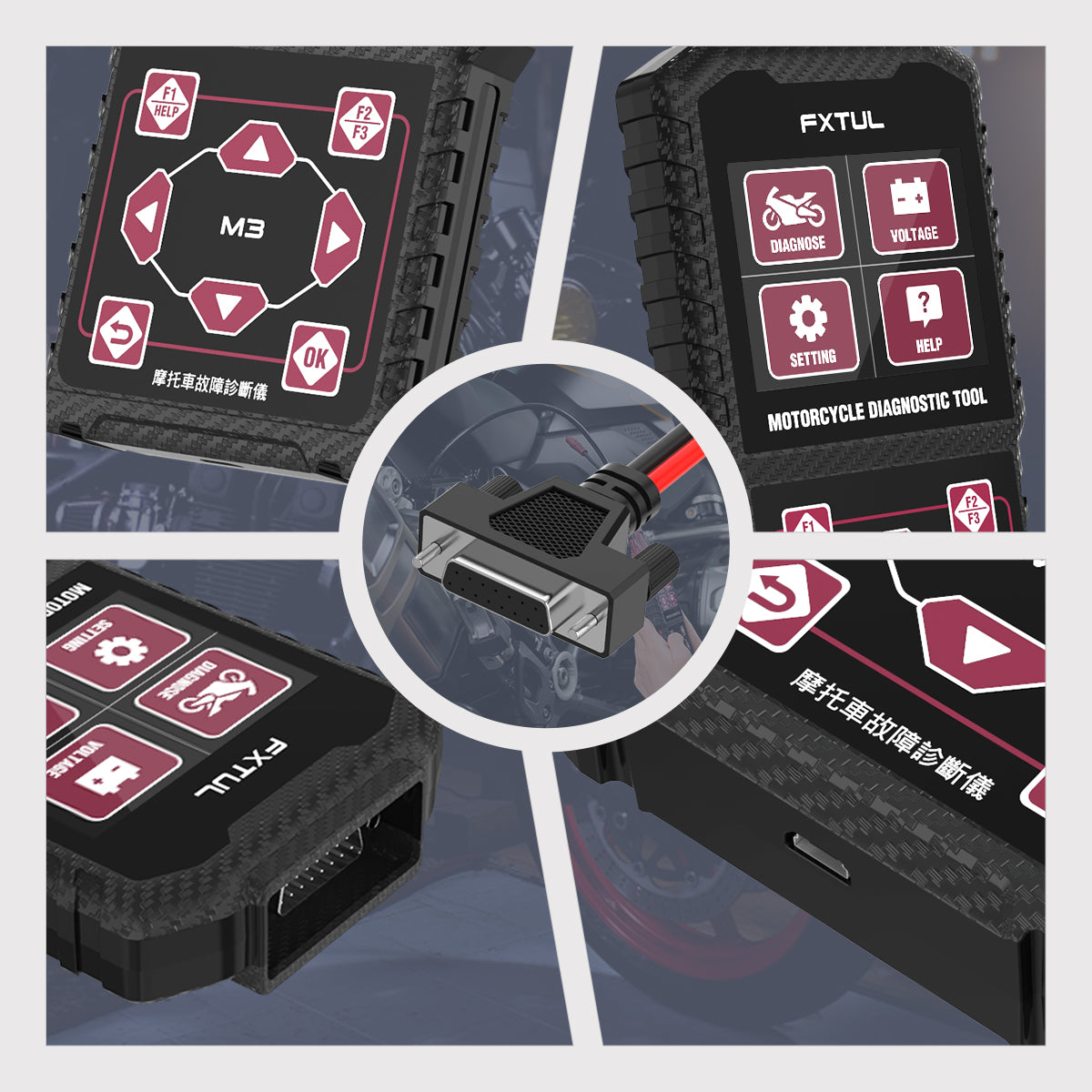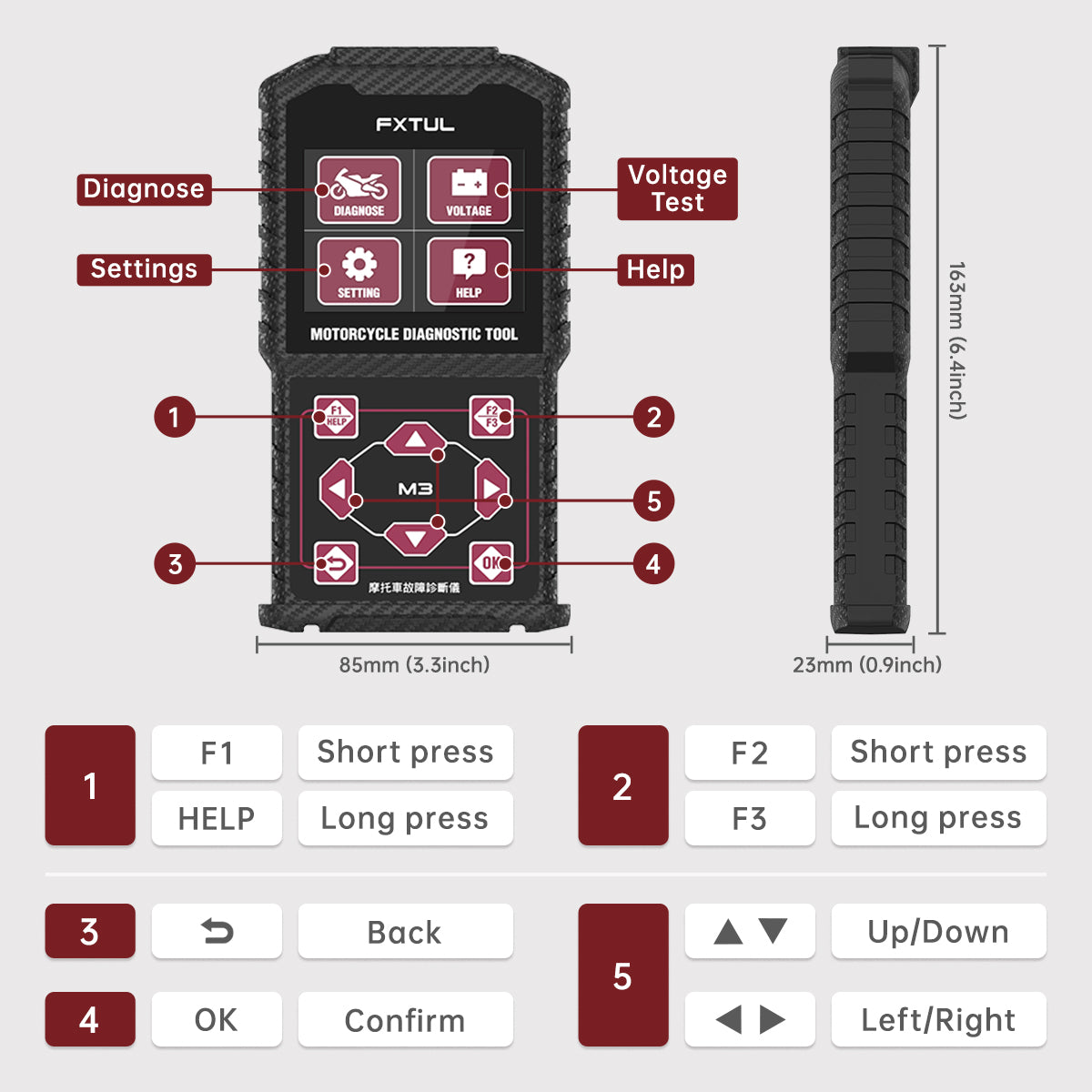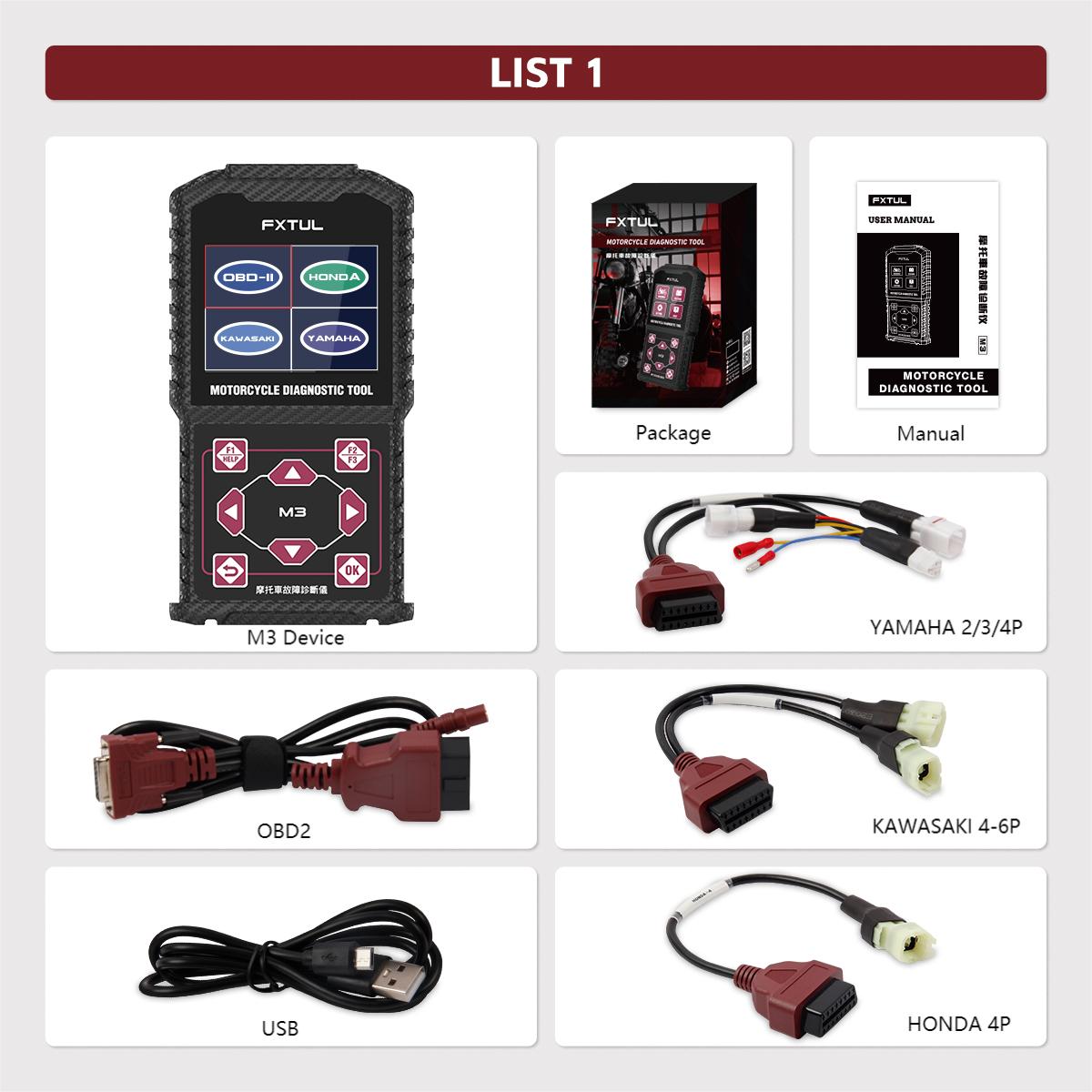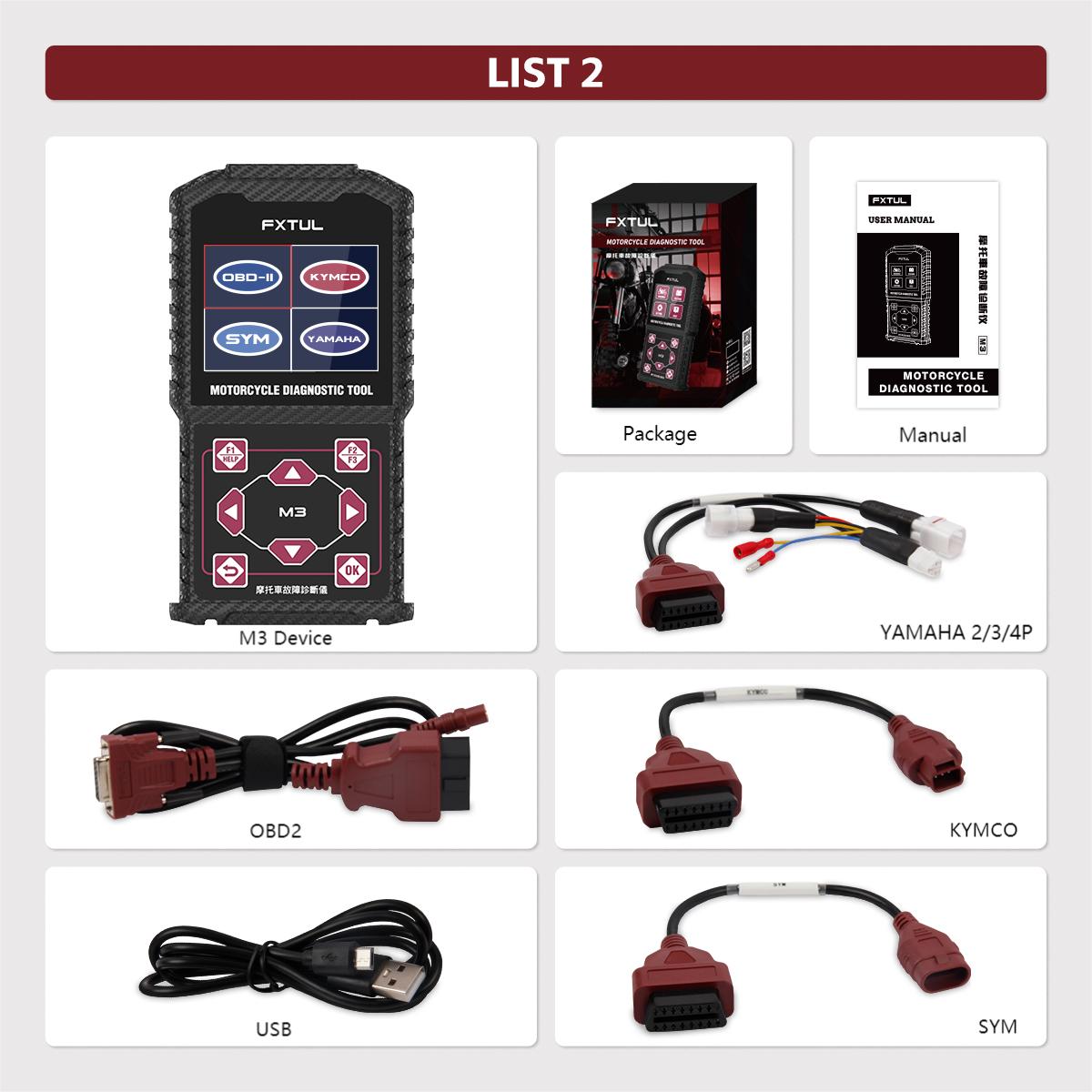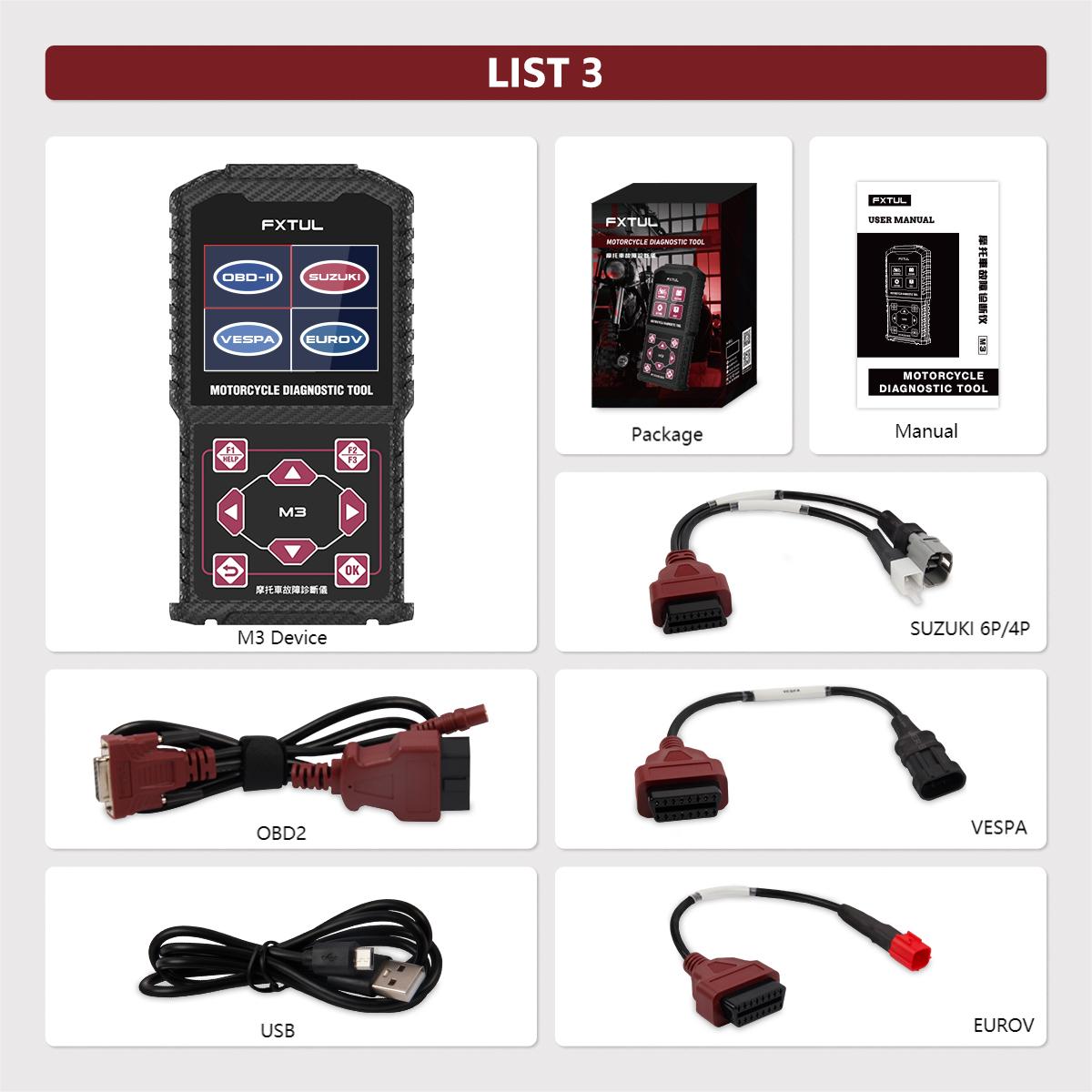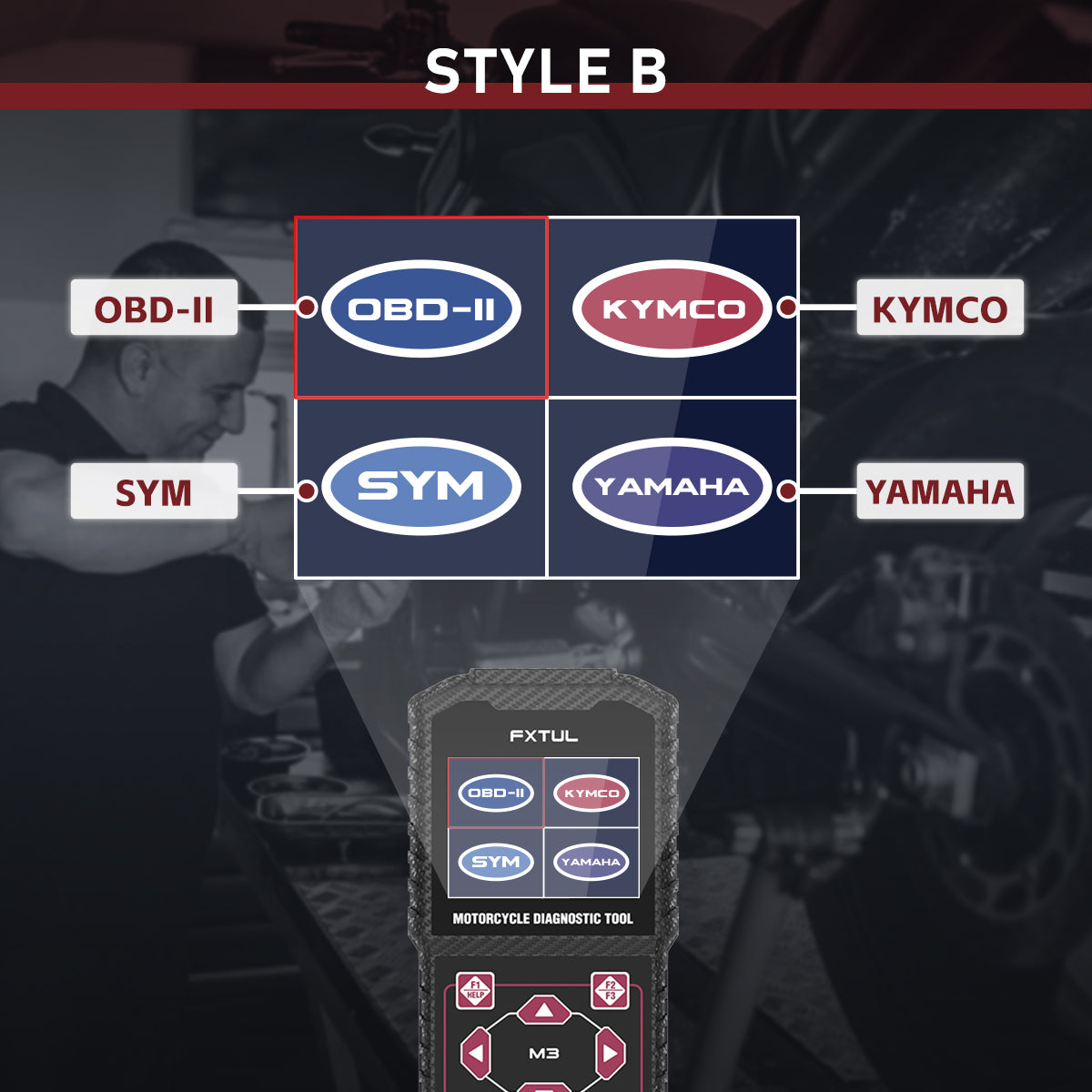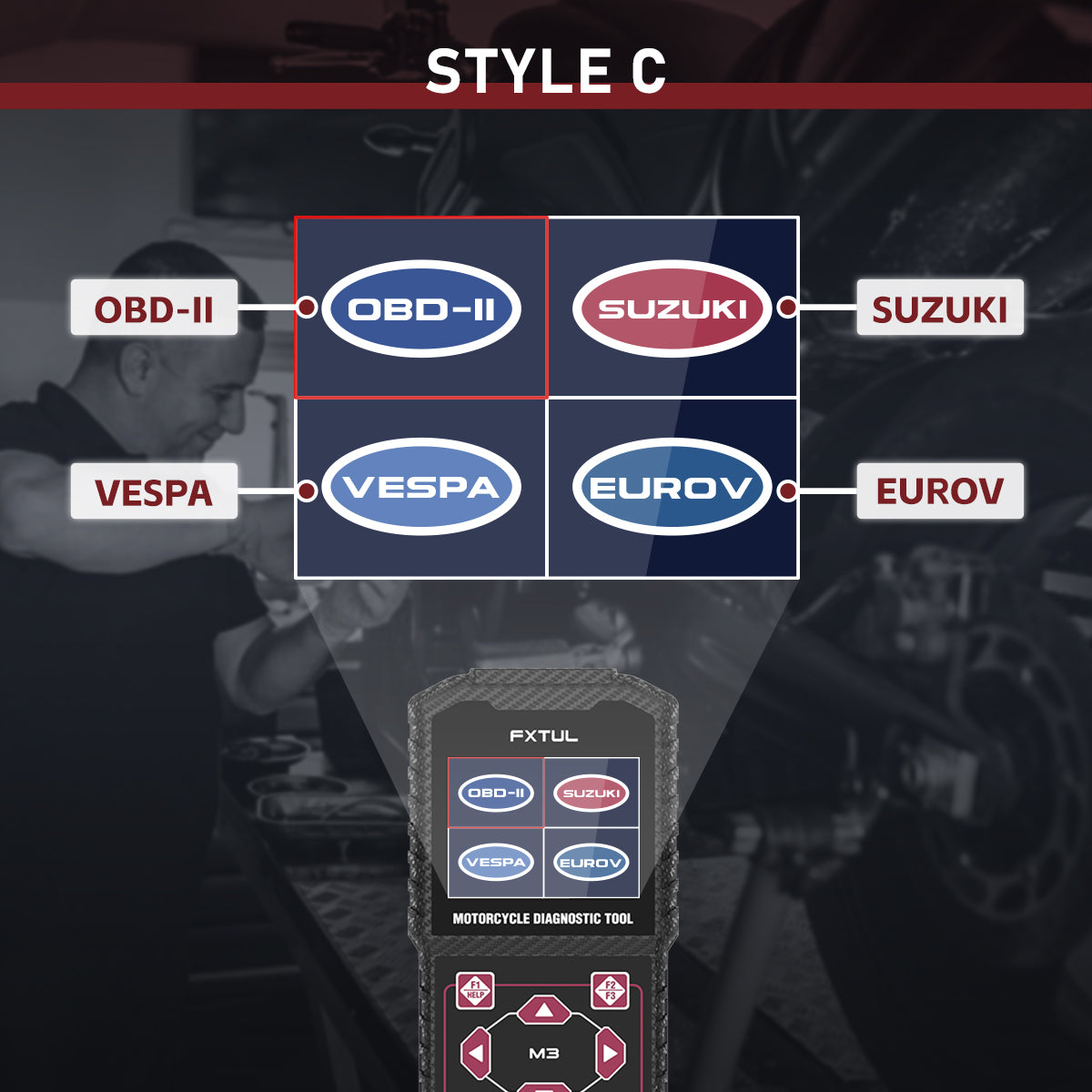 Collapsible content
Shipping

Please refer to the SHIPPING POLICY for details. The products are free shipping. If the shipping location you choose is in your country, no tariff is required. Otherwise, you will need to pay customs duties upon receipt of the goods. The specific rate is based on the tariff policy of each receiving country.
Note: Packages sent from Germany to the rest of the EU are not subject to tariffs.
Service Guarantee

All FXTUL products are backed by a three-year warranty. And we provide 7-day, 24-hour customer support.
Work with 2023 Vulcan S Cafe?

Yes, We have recently updated Kawasaki, so we have good support for Kawasaki's new motors.

Cómo Se puede agregar otros modelos al m3 que actualización se requiere

No hay forma de actualizar esto. Los tipos que son compatibles con a, b y c de M3 son fijos.

It just arrived. There are several cables but no instructions on how to hook it up to my 2006, Suzuki C50 Boulevard. Please help me.

Señor, no tenemos forma de saber el estado de cada vehículo. Puede buscar en el manual del usuario o en línea para determinar primero la ubicación del cabezal de diagnóstico de la motocicleta y luego seleccionar el cable de conexión de acuerdo con el cabezal de diagnóstico.

is het mogelijk om met fxtul m3 a honda cbr1000rr 2014 uit te lezen zie bij model invoer hiervoor geen optie

yes, but not in model list, need use system select, quick test

welke 11 talen ondersteunt fxtul(What 11 languages does FXTUL support)

Turkish, Spanish, Portuguese, Vietnamese, Khmer, Thai, English, French, Chinese Simplified, Chinese Traditional, Indonesian.  The German language has recently been added

Suporta as Yamaha do Brasil tipo Fazer 250 Lander 250 Crosser 150

The Yamaha motors change the model name in Brazil ,I just confirme Fazer is okay because we have a customer there , work fine. The other 2 models, I guess it will be ok. Use 'system select' ->'quick test'. Let device match the motor automatically

Suporta as motocicletas Yamaha do Brasil tipo fazer 250 Crosser 150 Factor 150

fazer 250 is OK, Some customers have used it. I'm not sure about the other two because the names of the Brazilian models have been changed. But it is most likely possible. You need to select 'system select'->'quick test' to make it match the system.

I have A Aprilia Caponord ETV 1000 2001 model and a Moto Guzzi 1200 sport 2006 model can you confirm these models are supported as i am very keen to buy one of you type c. scanners. thanks

sir, sorry. for  Aprilia Caponord, only 2013+. and we don't support Moto Guzzi.

Thanks

Hello, does M3 support Kawasaki KLX250 2013?

yes, support

hello, it is Milan gain, does it support honda crf 1000 L, 2019 model? Thank you for quick reply

I can't be 100% sure to support it, but there is a high probability that it is supported. If you are only use for this motor alone, you can wait for our confirmation before buying. If there are other motors that can also be used, it is recommended to buy. Because we will continue upgrade, even if it is not supported temporarily, it will be possible in the future. Or you could tell us the ecm information of the motorcycle, help us confirm.

hello, does it support honda crf 1000 africa twin?

which year of your motor? it support Honda CRF (1000)(2017).

With the FX toolM3 can i order cables for other bikes ?

The software only support the list motors .or you could use obd. What's your motor, you could try m6

Can use for Honda NHX110 2010 scooter

yes,support

Posso usar na Yamaha YS 250 ? / Can I use it on the Yamaha YS 250?

Not sure, we'll update the results after we try.

Where would I see the function to reset ECU for Honda Vario 125?

Normal connection, enter diagnosis, select service function

Hi can this product support yamaha nmax 155 ABS model year of 2023

The new model in 2023 cannot be confirmed, we have not measured it yet.

I want to become a dealer in Indonesia and buy in large quantities

very sorry  ,This question and answer is not processed in real time, please contact sales@fuxtul.com

Na tela principal, no modo OBD2 quais as motos são suportadas ?

As long as your motorcycle has an OBD interface, it can support diagnosis.

Do you have a model that supports Ducati?

M6 supports Ducati motorcycles. You can tell me the specific year and model of your motorcycle, and we will check whether it is supported for you.

How do I know which motorcycle models the M3 equipment is suitable for?

You can check our description and option picture description. If you are not sure, you can tell us your motorcycle make, model and year.

Does M3 support Vietnamese language?

Yes, our devices support a total of 11 languages including Vietnamese. You can switch the language you need anytime.

How long can the device support software upgrades?

FXTUL's motorcycle diagnostic instrument supports lifetime free software upgrade service. For specific software upgrade methods, please refer to the product manual. Relevant update and upgrade files can be obtained by contacting customer service or through the download menu of the website.

Could this obd2 scanner clear the check engine light on my dashboard?

Yes, our diagnostic instrument can be suitable for motorcycles of the OBD2 interface, which can remove the fault code of the engine.

What is the difference between the different models?

The three models of the M3 motorcycle diagnostic device are the same in terms of function and appearance, but the motorcycle models they can apply are different. M3-A is suitable for motorcycles of Yamaha, Honda, Kawasaki and OBD2; M3-B is suitable for motorcycles of Yamaha, Kymco, SYM and OBD2; M3-C is suitable for SUZUKI, Vespa, EUROV and OBD2 motorcycles.

Do you have to be connected to the internet to scan motorcycles?

No. Our motorcycle diagnostic device does not need to connect to the network, it only needs to be connected to the motorcycle.